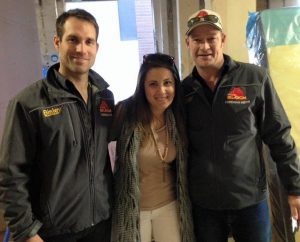 A Campbelltown artist will feature when television blockbuster program The Block airs its bedroom reveals this Monday night.
A 1.4 metre painting by Ruse artist Celeste Wrona will be hanging in one of the master bedrooms to be unveiled to fans of the show.
Ms Wrona is enjoying something of a purple patch, having also just been named as a finalist in this year's Fishers Ghost art prize, which has attracted more than 700 entries from across the country.
The winner will be named on November 4, but in the meantime Ms Wrona is still buzzing from the experience of being part of a juggernaut like The Block on Channel 9.
"To have my work featured on prime time television is such an unbelievable opportunity for exposure that I am so very grateful for,'' Ms Wrona said.
"So make sure you tune in this Monday to find out how it all goes.''
Her limited edition print Release II was purchased by contestants on the show to hang in their main bedroom.
This print was created from a close up and detailed section of one of her original ink works that has a restricted colour palette of black, whites and blues, and is reminiscent of a Japanese seascape or representation of snow capped mountains.
"I used the camera to explore my original ink paintings in very close detail and these in turn become new works within themselves, forming my limited edition print range,'' the artist said.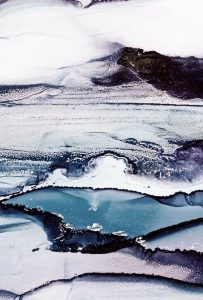 When The Block called Ms Wrona says she was ecstatic but quickly also discovered the crazy deadlines that go with making popular TV programs.
"I had to get the work printed by my fine art printer in Bowral in three different sizes that day as they were still unsure at that point what size they would need and I knew I wouldn't be able to get the framing complete in time if the works were not printed that day,'' Ms Wrona explained.
"I then lined up my framer to be on stand by to have the work framed up and ready to make its journey to Melbourne.
"I booked last minute flights and arrived on the Saturday morning ready to hand deliver my work.
"When I arrived on the set of The Block the experience was quite surreal, as they miked me up ready to go onto the huge building site.
"I was helped to carry the huge 1.4 metre framed work up the endless flights of stairs.
"Once arriving in the room and revealing the work to the contestants they were absolutely blown away and couldn't wait to hang the piece.
"However with only one day left until their room reveal they were still only painting their still naked, uncarpeted room full of tradesmen.
"It was truly hard to believe in under 24 hours that would be a finished, a high end master bedroom,'' the artist said.
The Block airs 7.30pm Monday on Channel 9.
Ms Wrona, who was featured in the South West Voice in July this year, said she was also very excited to be a finalist in the 2016 Fishers Ghost Art Prize in the Open Category, alongside notable Australian artists such as David Fairbairn, Wendy Sharpe and George Raftopolous.
She describes her entry, Transcendence, as an abstract landscape, full of vibrant veils of form and colour and energetic line work.
"It is wonderful to be recognised as a local artist at the Campbelltown Art Centre in such a notable prize,'' Ms Wrona said.