The Camden Cats have had a last quarter fade out in their 17 point loss against the East Coast Eagles at Fairfax Reserve on Saturday afternoon.
Sporting their #SayNo2DV playing strip on the club's annual Ladies' Day, the Cats were pumped and ready for a big game against the fourth placed Eagles.
The Cats first half was sublime as they went toe to toe with their opposition, playing some of their best, free flowing football for the season to date.
Under 19s player Jarrod Coomby showed the skill and poise of a seasoned veteran across the ground with a best on ground performance, as he led the Cats to a 9-point three quarter time lead.
Coomby was well supported in the Cats midfield by Lachlan Maples and player coach Jed Ellis-Cluff, who thrilled the Cats faithful with a magnificent pack mark on the grandstand wing in the third quarter.
The first three quarters Camden were superb; but the final quarter was all East Coast as they piled on 4 goals to nil to overpower the Cats and take out the win.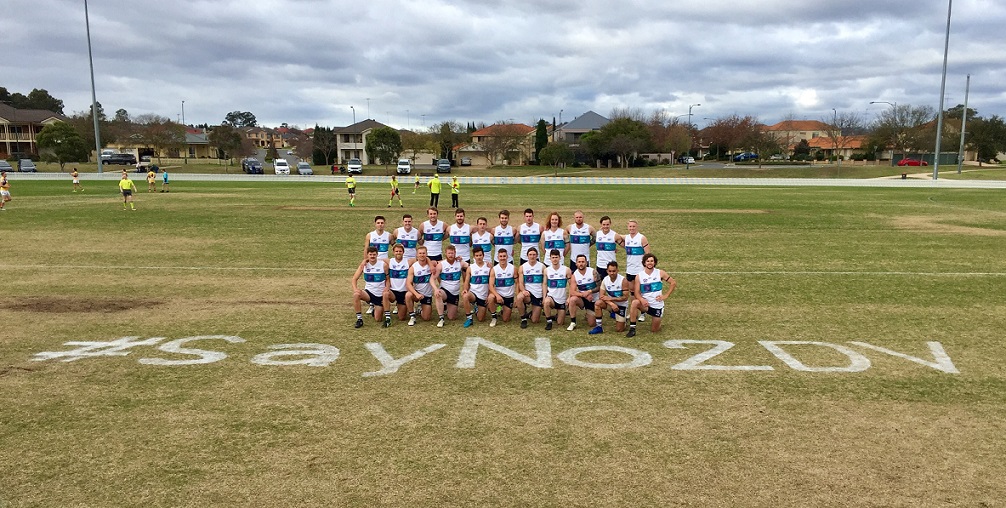 The main destroyers for the Eagles were key forwards Jamie Vlatko and Kieran Emery who kicked 5 goals and 3 goals respectively, while for Camden Harry Bagot continued his recent purple patch with another 2 goals for the Cats.
This coming Saturday's round 11 action sees the Camden Cats welcome the Inner West Magpies to Fairfax Reserve at 2pm.
Camden Cats goal kickers: J. Coomby 2, H. Bagot 2, J. Bannister, J. Ayling, W. Wylie, M. Sapiatzer, J. Ellis-Cluff
Camden Cats best players: J. Coomby, L. Maples, J. Ellis-Cluff, J. Ware, D. Thomas, H. Bagot
RESULTS SATURDAY, JUNE 22:
Premier division: East Coast Eagles 12.7.79 defeated Camden Cats 9.8.62
Premier division reserves: Camden Cats 8.10.58 defeated East Coast Eagles 4.13.37
Under 19 division 1: East Coast Eagles 13.5.83 defeated Camden Cats 10.5.65
Women's division 1: Wollongong Saints 14.11.95 defeated Camden Cats 3.1.19
Men's division 2: East Coast Eagles 11.3.69 defeated Camden Cats 9.8.62
Men's division 3: Camden Cats defeated Pennant Hills Demons by forfeit.