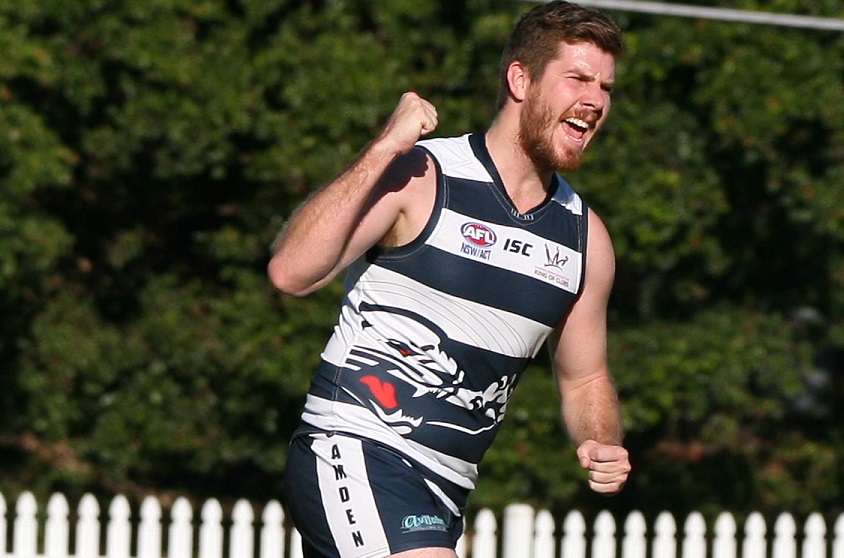 The Camden Cats Premier Division Reserves side produced one of the biggest comebacks in the club's history on Saturday against the Inner West Magpies at Picken Oval.
Kicking a measly one goal and one behind in the first half had the Cats 46 points down at half time. A huge amount of soul searching was required during the main break as Camden Cats' coach David McCarthy implored his players to fire up in the second half and instilled belief in his charges that they could turn things around.
When the Magpies kicked the first goal of the third quarter to go up 59-7 the Cats boys could've quickly forgotten everything the coach spoke about in the sheds.
But instead Camden clawed their way back into the game kicking 9 of the next 10 goals; with the winning goal a 40-metre banana by goal sneak Vic Musgrave with five seconds to go on the clock.
Midfielders Tommy Glynn, Vic Musgrave and Blake McCrossen were key to the Camden turnaround in the second half; providing plenty of opportunities for full forward Matt Lecek to kick goals.
Lecek finished the game with six goals for the Cats to be the leading goal-kicker on the ground.
This was a 52 point comeback for the Camden Cats that will be talked about for years to come.
Camden Cats goal kickers: M. Lecek 6, M. Broadstock, V. Musgrave, B. McCrossen

Camden Cats best players: S. Rooke, M. Lecek, A. Storey, T. Glynn, V. Musgrave, B. McCrossen.
The Cats will now welcome four St George Dragons sides for Round 7 action at Fairfax Reserve, Harrington Park this coming Saturday, with first grade starting at 2:30pm.
RESULTS – SATURDAY MAY 18:
Premier division: Camden Cats 12.13.85 Inner West Magpies 11.4.70
Premier division reserves: Camden Cats 10.6.66 Inner West Magpies 10.5.65
Under 19 division 1: East Coast Eagles 10.15.75 Camden Cats 6.12.48
Women's division 1: Western Magic 8.12.60 Camden Cats 6.7.43
Men's division 3: Camden Cats 24.15.159 North Shore Red 0.4.4
Masters: Wollondilly Knights 6.10.46 Camden Cats 4.3.27.