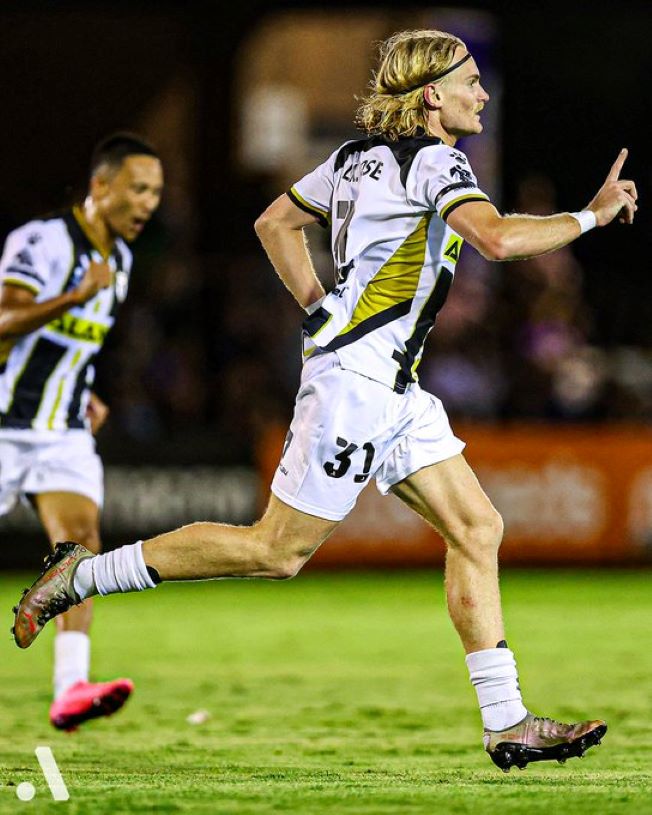 For more than an hour Macarthur FC looked as solid as a rock against Perth Glory on Saturday night.
And when Lachie Rose (pictured celebrating afterwards) weaved around several defenders and smashed the ball into the back of the net with his left foot a couple of minutes before half time the three victory points were looking good.
A win for the Bulls would have meant jumping into equal sixth spot on the ladder and a real shot at finals football in 2023.
Considering all the season ending injuries they have endured, including captain Ulises Davila and last week Daniel Arzani, making the finals would be close to a miracle for Macarthur FC.
But over there in Perth on a mild evening, knowing their season was on the line, the Bulls absorbed everything Glory had to throw at them with scrambling defence.
Goalie Filip Kurto had to put his body on the line several times in the first half in a bid to stop the home side from scoring.
In one instance early on in the second half, in trying to stop the ball going in Kurto smashed the back of his shoulder into the corner of the woodwork.
The fearless keeper needed some medical assistance, but he was able to continue for the rest of the game.
The Bulls landed in Western Australia with the knowledge that the home side had never defeated them in an A-League match.
And that's how they played, with poise as well as loads of energy.
Just before the 70 minute mark was reached, Perth managed to level the score from a cross.
But then real disaster struck for the Bulls when they conceded a second goal within five minutes of the first one in similar circumstances to the first strike a few minutes earlier.
And really it was those five minutes when the Bulls seemed to have lost concentration that cost them dearly.
Now, instead of sitting pretty in equal sixth, the Bulls are in wooden spoon contention as the A-League season concludes.
They are still a mathematical chance of making the final six, but a lot of things will need to go their way.
Macarthur FC are back at Campbelltown Stadium this Saturday where they will host cross town rival Western Sydney Wanderers.
The match is scheduled to kick off at 7.45pm.