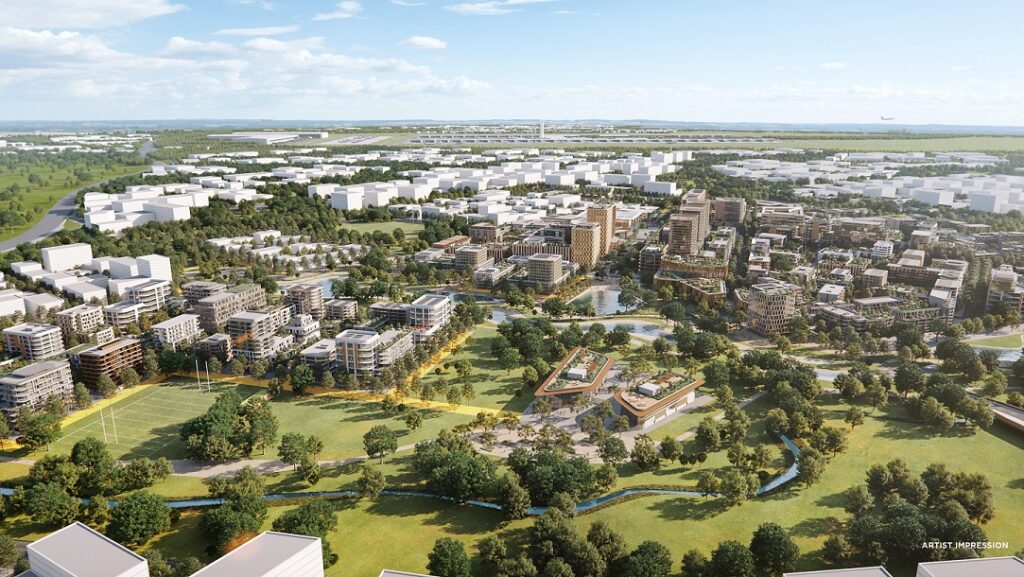 Building new towns and even cities as part of our country's immigration program does make a lot of sense.
Coupled with fast internet, clean energy and other modern services, such an approach would take the pressure off existing infrastructure such as hospitals, schools, roads and public transport.
The key to success in such a strategy would be the location of such new population centres – away from great metropolitan areas like Sydney and Melbourne.
It may all be pie in the sky, and we never get to see such a concept become a reality.
On the other hand, some faceless NSW bureaucrats have decreed that there should be a new city built from scratch.
It has been called Bradfield, after the Harbour Bridge engineer, and it is proposed to be located at the back of Liverpool and between Penrith and Macarthur.
Bradfield, according to official government policy, will eventually become Sydney's third CBD, and if the computer generated image above is right, that's how it might look.
Which means, as many of you no doubt have guessed, the death knell of budding third CBDs such as Liverpool and Campbelltown.
The Bradfield concept represents a double whammy for South Western Sydney, which by rights should have been earmarked as the third CBD and flooded with government departments and other investments.
Our great need out here is more local jobs, but especially higher paying, white collar jobs.
In Campbelltown, where a proposed $1 billion investment in a community and justice precinct was seen as the catalyst for a huge jump forward, this now looks a forlorn hope.
The council is still desperately trying to interest both the federal and state governments, but the signs are not hopeful.
Of course, the truth is that there's only so much money to go around, and what's left after Parramatta – the so called second CBD – is unfairly showered with largess, will be going to Bradfield.
Which leaves, well, four fifths of bugger all for Campbelltown and Liverpool.
It's wrong, and Bradfield could very well turn out to be no more than a vehicle for the creation of more layers of red tape as more bureaucrats are needed for committees and focus and study groups to determine the way forward.
It's hard to tell if it's too late to pull out of the Bradfield folly, but I sure hope the Minns Government is taking a very close look at the cost – including the political cost to the government at the next state election.
There is no question that there will be a political cost as the South West continues to be neglected, all while faceless bureaucrats pick up obscene salaries to drive Bradfield forward.
No need to remind Minns that these fat cats almost certainly live exclusively in the Eastern Suburbs or the North Shore.