If you and your family enjoy the outdoors you'll love Blair Athol Bush Adventure this weekend.
This kid friendly event which celebrates the local wildlife will be on at John Kidd Reserve from 12 noon to 3.30pm, this Saturday, June 23.
Blair Athol Bush Adventure is run by National Parks Association of NSW as part of their Bush Mates project, and in collaboration with Campbelltown City Council.
"Bring your family and friends to this event and get up close and personal to some native animals at the live animal display,'' says Stephanie Clark, a Citizen Science Officer at the National Parks Association of NSW.
"You can also have a romp around in the bush on a nature walk and learn more about the endangered Cumberland Plain Woodland and the animals that call this magical place home.
"You'll also be able to see the great work the Bushcare volunteers are doing to rejuvenate the bushland at John Kidd Reserve,'' Ms Clark said.
If you like, you can join the team of volunteers by contacting Campbelltown Council's Environmental team on 4645 4601 or email environment@campbelltown.nsw.gov.au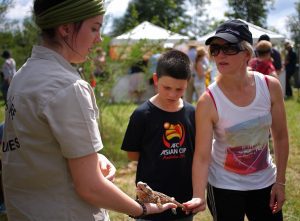 "If you're a local we suggest walking or wheeling to the event to enjoy a full day in the outdoors,'' Ms Clark said.
SNAPSHOT
WHAT Blair Athol Bush Adventure
WHEN Saturday, June 23, 12-3.30pm
WHERE John Kidd Reserve, the Kraal Drive, Blair Athol.
To get your free tickets visit Bushmates.org.au/events