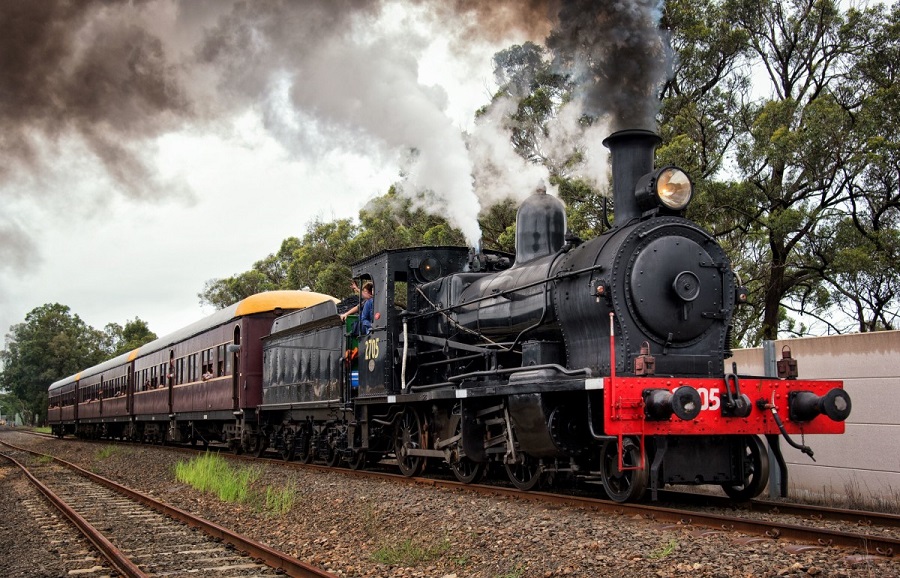 The much anticipated Thirlmere Festival of Steam, which was to be held this weekend, has become a victim of the big wet. An inspection of the festival site on Wednesday revealed the ground's saturation level would not support the necessary infrastructure for the event.
And given many access routes to Thirlmere have sustained significant damage, Wollondilly Council and Transport Heritage NSW made the difficult decision to postpone the festival to later in the year.
For enquiries regarding tickets, please contact the NSW Rail Museum on 1300 11 55 99.
xxxxx
And while on the floods, Fire and Rescue NSW crews from Campbelltown and St Andrews saved the lives of two elderly people trapped in their vehicle along Menangle Road, near Glen Alpine early this week.
The crews had responded to reports that four people may be trapped in their cars.
They arrived to find three cars submerged in flood water, and spotted two elderly occupants trapped in one vehicle on their phone talking to relatives, who were on the scene.
With flood water rising and the vehicle almost completely submerged, Fire and Rescue Fire personnel entered the water to reach the vehicle some 75 metres away.
Rescue tools were relayed to the vehicle to allow one of them to break windows to get the two people out of their vehicle.
The elderly couple suffered only minor injuries and were taken by relatives for further treatment, but their vehicle was engulfed by flood waters a few minutes later.
xxxxx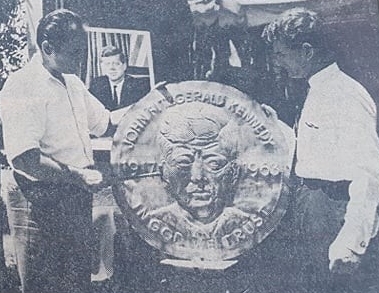 Former deputy mayor of Campbelltown John Hennessey is back in the news – in Adelaide.
Hennessey, who passed away in 2016, established a memorial garden for John F Kennedy, the American president who was assassinated in 1963.
A journalist from Adelaide is putting together a story about the garden and John Hennessey's role in it.
Hennessey, a real character, came to live in Campbelltown after leaving Adelaide, and as some readers would know he established the memorial garden to the victims of the Granville train disaster.
What is less know is that he came very close to getting enough support on Campbelltown Council for a giant glass sculpture of Fred Fisher of Fisher's Ghost festival fame.
Unfortunately, most councillors thought the money could be better spent elsewhere, and that was that.
Such an idea would not even be discussed because they don't make them like John Hennessey anymore.
xxxxx
Since becoming Campbelltown mayor, George Greiss has written to more than 70 MPs asking them for a meeting to discuss Campbelltown's future and advocate for many of our existing and future projects.
Writing in his second Mayoral Minute this week, Cr Greiss says that meeting so many MPs, ministers, and shadow ministers is "testimony to the importance both sides of government place on Campbelltown.
"The conversation included discussion on the infrastructure needs of our city, shortfalls in our access to essential services, planning matters and the Campbelltown Community and Justice Precinct (CCJP), to name but a few topics.''
The first meetings were with all of the local MPs, but Cr Greiss has also now ticked off meetings with opposition leader Chris Minns, some of the mayors of neighbouring councils, four state government ministers and an equal number of shadow ministers.
"I would like to thank our local MP, Mr Greg Warren, for providing me with access to Parliament House, making his office available to me while I am in Parliament and organising an encouraging and productive last-minute meeting with Mr Chris Minns,'' he writes in the Mayoral Minute.
"I have also met with Matthew Mason-Cox, president of the Legislative Council of NSW, and Mark Latham, MLC and leader of One Nation in NSW.
"The Legislative Council plays an essential role in our democratic system, and I am thankful for the time they have taken to talk to me about Campbelltown and the support they can provide through their critical roles.''
xxxxx
Premier Dominic Perrottet and minister for health Brad Hazzard recently visited the refurbished NSW Health Pathology laboratory at Campbelltown Hospital.
Becoming operational in late 2021, the newly expanded space has doubled in size and now has the capacity to process more than 80,000 diagnostic tests each month.
The NSW Health Pathology Campbelltown team has also played a critical role during the Covid-19 pandemic, processing rapid PCR test results for high-risk hospital inpatients.
In addition to increased processing and analysing capabilities for COVID-19, the expanded laboratory includes a larger blood bank, and biochemistry and specimen reception areas.
xxxxx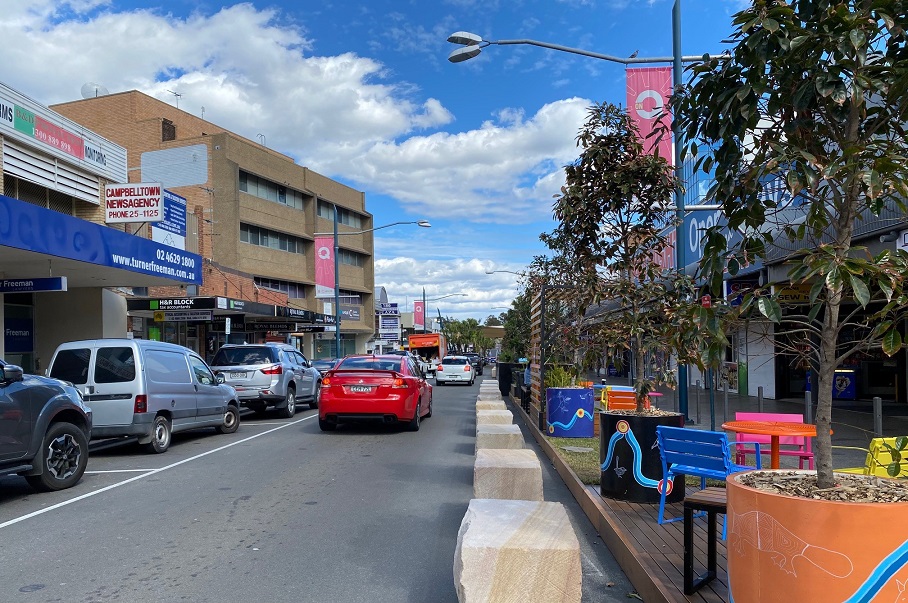 A reader has suggested designated smoking areas be set up in Queen Street, Campbelltown, pictured above.
The suggestion was part of a response to a story in the South West Voice about improving street appeal in the town centre.
It's fair to say that Queen Street seems to attract more than its share of smokers and a complete ban would not be out of place.
Designated smoking areas, though, seem like a good compromise, for now.