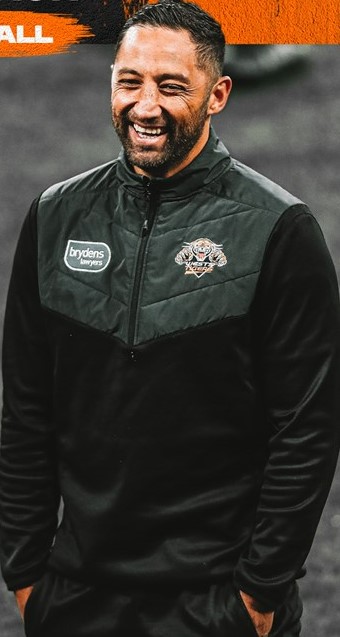 The media release announcing Benji Marshall is returning to the Wests Tigers doesn't mention anything about how the club unceremoniously dumped him at the end of the 2020 season.
Michael Maguire's name is also conspicuously missing from the formal club statement issued last night.
And I am sure it was just a coincidence that the media release landed in inboxes just minutes after a TV network ran an "exclusive'' on Benji's return to Concord-Leichhardt-Campbelltown.
It's not exactly the story of the year, but it is interesting that just 12 months after the club's poor treatment of arguably its greatest player he is asked to return to the fold.
For that, for seeing the error of its ways, the club deserves a little pat on the back.
And while Benji, always gracious, won't say a bad word, the fans will never forget how he was treated.
"I'm very excited to start this new role with Wests Tigers and to continue contributing to a club that I've always loved," Marshall said in the statement issued by Wests Tigers.
"This is an exciting new role that allows me to contribute to the club in a number of ways both on and off the field.
"I'm looking forward to helping grow the next generation of Wests Tigers players coming through our pathways and playing a part in bringing further success to this great club."
As an official Wests Tigers ambassador Marshall will assist the club in a number of different departments with a focus on pathways and development – providing positional expertise to Wests Tigers Cubs program as well as at junior representative training sessions for both Balmain and Western Suburbs SG Ball and Harold Matthews teams.
Marshall will also assist Wests Tigers in a commercial capacity with attendance and support of official Wests Tigers functions as well as various membership, corporate and foundation events throughout the 2022 season.
Who knows, he may even pull on the jumper one more time if an emergency arises, but there's no mention of that in the statement.
Either way, with Tim Sheens back at the club, as well as Robbie Farah, it looks liked the gang's back, and maybe it augurs well for next season and beyond.