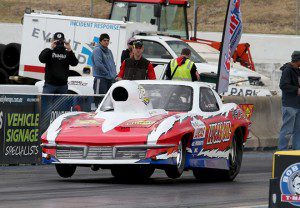 December was a good month for ace Camden driver Jason Stares in the Summit Racing Equipment Sportsman Series.
The Lucas Oil Corvette driver won his first ever ANDRA Christmas Tree trophy at Mildura Sunset Strip then bookended the month with his second Top Sportsman victory in the Rowe Memorial Super Stock Classic at Calder Park.
With a pair of Christmas Trees on the mantle, Stares now hopes to double up again with back-to-back events at South Coast Raceway in Portland then the Australian Nationals back at Calder for the first time since 2001.
"To win one tree was a dream of mine for a long time, to win two in a row is unbelievable as there are only a few Sportsman racers who've achieved this," Stares said after his epic double.
"We have been working hard in the first half of 2015 tuning the chassis and engine with the help of Joe Jolly from Sunset Performance Engines, and once we got the race car where we wanted it I could start to concentrate on the driving side of things.
"I have been looking into ways of doing things better on the track and after a lot of research and some good advice from a couple of Australia's best Sportsman racers in Neil Constantinou and Matt Forbes, I changed a few things up in the way I drive and it seems to be paying off."
Fellow Lucas Oil driver Matt Forbes has also enjoyed a run of history making success in Modified and Super Gas of late but the two friends off the track will become rivals on it when Forbes steps into Top Sportsman for the first time at the Nationals.
"Matt has doubled up twice in the last few months, so if there is anyone that has a chance of winning three at the same race it's him," Stares said.
"Having a Sunset Performance Engines and the support of Lucas Oil Products in all of his cars definitely increases his chances but I will be trying hard to stop that from happening.
[social_quote duplicate="no" align="default"]"If we do line up against each other one thing that would be guaranteed is that it would be a tough and close race with Lucas Oil Products winning either way.[/social_quote]
"I'm sure Matt would be of the same opinion that you can be friends and even share the same sponsors with someone but as soon as you get on the track it doesn't matter who is in the other lane, the reason you are there is to turn the win light on.
"Let's hope we just meet in the finals for our great sponsors."
Quick to credit his sponsors for his meteoric rise to the summit of the Top Sportsman standings, Stares feels lucky to be so well supported in his Championship aspirations.
"My major sponsors Lucas Oil Australia and VPW have enjoyed seeing my success which wouldn't have been possible without them. It's awesome to see that their great products and support have translated to back-to-back ANDRA event wins.
"I am very fortunate that all of my sponsors including Proflow and Sunoco Race Fuel give me the same great support and they have all played a part in my recent success."
Stares will be aiming for the hat trick when the Summit Racing Equipment Sportsman Series continues at South Coast Raceway in Portland, west of Melbourne, this weekend, January 16-17. For more information please visit the website.
The Australian Nationals return to Calder Park Raceway for the first time in 15 years on January 23-24. For more information visit the Calder Park website.