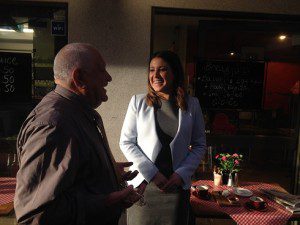 Sprung: Ok, fess up, what's going on here between this councillor and the TV journalist?
We snapped veteran Campbelltown councillor Fred Borg with one of the town's famous exports, Kentlyn's Julieanne Horsman at the Centrale Café &Bar in the Skygardens Arcade, which is adjacent to Queen Street.
Ms Horsman is of course a Channel 9 journalist but returns to the family home every chance she gets. She worked locally with the radio station C91.3.
As for Cr Borg, he's getting ready for another annual mayoral change that almost certainly won't involve him, although he'd love to do the job.
Maybe he has the wrong people backing him, but time will tell.
He did tell the South West Voice that if he ever got the job "I wouldn't let Campbelltown down''.