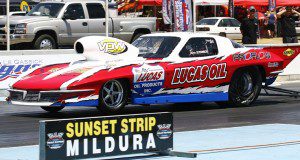 Camden's Jason Stares was among a trio of first time Christmas Tree winners in round 5 of the Summit Racing Equipment Sportsman Series.
Stares picked up his very first ANDRA Christmas Tree, beating off a challenge from Paul Russo on the weekend at Mildura.
Stares crossed the line first in a close one with a 4.780 second pass on a 4.77 dial in from Russo's 4.892 and 4.87 dial in.
"I can't explain how it feels, it's unbelievable," said an emotional Stares.
"So many years, Super Sedan, Top Sportsman all for this, and finally we've done it.
"I've got to thank my uncle Bob, my father in law Michael, my wife and kids who usually come with us, and great sponsors, we can't do it without them. VPW, Pro Flow, Lucas Oil Sunoco race fuel, they make it so much easier."
Stares defeated Julian Carafa and Phil Yfantidis to set up his winning run.
Summit Racing Equipment Junior Dragster pitted brother versus sister when Bradley Bishop (Orangeville, NSW) chalked one up against his big sister Natalie.
The younger sibling crossed the line first with an 8.050 second pass on an 8.05 from an 8.119 ET on an 8.03 dial in.
Enlisting the help of Champion Top Fuel Crew Chief Ben Patterson, hometown hero David Thornton (Mildura, Vic) secured his first ever ANDRA Christmas Tree trophy in The Race Shop Supercharged Outlaws defeating Northern Territory's Adam Murrihy.
Cory Dyson (Kilmore, Vic) won his first ever Christmas tree in Mildura Plumbtec Modified, beating the form man Matt Forbes who fouled at the start line.
Coming off two wins from two this season, Craig Geddes was the man to beat in Mildura Gateway Tavern Super Comp but reigning Super Stock champion Steve Norman (Whyalla, SA) had other ideas in a Patterson Racing versus Bob Book Enterprises showdown.
Norman reacted in .003 seconds at the start line to record a 5.092 second pass on a 5.24 index from Geddes who was pasted to the tree followed by a 4.665 elapsed time on a 4.95 index.
Reigning three-time champion John Kapiris (Two Wells, SA) added another trophy to his collection in Mildura Ice Works Super Sedan defeating fellow South Aussie Danny Bucella in the final.
• For full results from the Summit Racing Equipment Sportsman Series presented by Mildura Rural City Council at Mildura Sunset Strip, please click here.
• The Summit Racing Equipment Sportsman Series next moves onto Calder Park Raceway for Round 6 on Saturday, December 27.