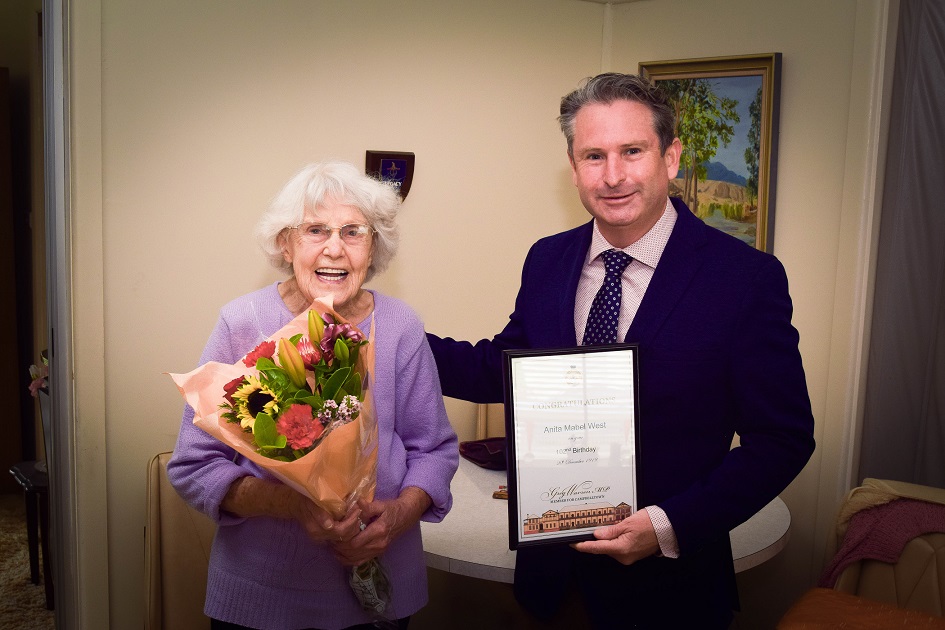 Local resident Anita West, who has just turned 102 years of age, is certain of one thing.
She loves Campbelltown so much she would not want to live anywhere else.
That's what Anita Mable West, to give her full name, told Campbelltown MP Greg Warren, when he presented the centenarian flowers and a certificate in recognition of her 102nd birthday.
"I have lived here for 62 years and I just wouldn't want to live anywhere else,'' said Mrs West, who must be one of the area's oldest residents, if not the oldest.
Mr Warren visited Mrs West in her Campbelltown home, where she still lives independently.
Born in Manchester City, in the United Kingdom, Mrs West and her late husband moved to Australia more than 60 years ago.
The couple first moved to Glenfield before eventually settling in Campbelltown.
Mr Warren said he was astonished by Mrs West and her ability to live independently at the age of 102.
"Anita is a wonderful character and is simply amazing," he said.
"She has lived by herself in her home since her husband passed away in 1978.
"To reach 102 is a feat in itself, but to still live independently is nothing short of incredible.
"Happy birthday again, Anita," Mr Warren said.