It's still located in the centre court of Macarthur Square, but the Stepping Up art exhibition has lived up to its name for the 2015 edition.
"We wanted to give the space an art gallery feel this year,'' says the young woman behind Stepping Up, Natalie Wadwell, of the wraparound fence erected to create a see through art gallery right in the busy heart of the region's biggest shopping centre.
Last year individual boards were utilised to display the works by local HSC students, so this year's set is definitely a step up.
"We are really happy about how it has turned out,'' Ms Wadwell said just a few moments before the federal member for Macarthur, Russell Matheson did the honours and officially opened this year's Stepping Up at 4.30pm today.
Mr Matheson heaped praise on Ms Wadwell and her volunteer helpers for bringing together this special exhibition, now in its third year.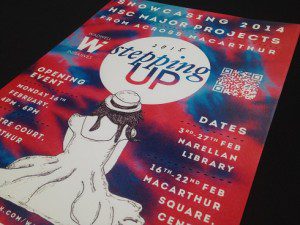 "I really want to congratulate Natalie for her efforts in organising Stepping Up,'' Mr Matheson said.
"I have had a look at the works and there are some very talented artists here on display.
"The local community, and some of them are here today, appreciates what Natalie has done and we are really proud of her.''
Radio personality Captain Pat from local station c91.3 also attended the launch, as did art teachers from local schools where students were selected to be exhibited in 2015 Stepping Up.
Mr Matheson announced Keziah Duguid as the overall winner out of 15 works included in the 2015 Stepping Up exhibition.
Ms Wadwell, who announced that AC Galleries had come on board as a sponsor of Stepping Up, told guests that she was proud to be involved in something for young people.
"Creativity should reflect our community, and this certainly does,'' said Ms Wadwell, an art and design honours student at the University of NSW.
And while this year's art works  are a must see, music has been added to Stepping Up repertoire for 2015 for the first time.
Stepping Up key dates:
 Macarthur Square exhibition: closes on Sunday, 22 February;
Music performances at Kellicar Lane: Saturday, 21 February: 12 – 2:30pm and 5:30-7pm;