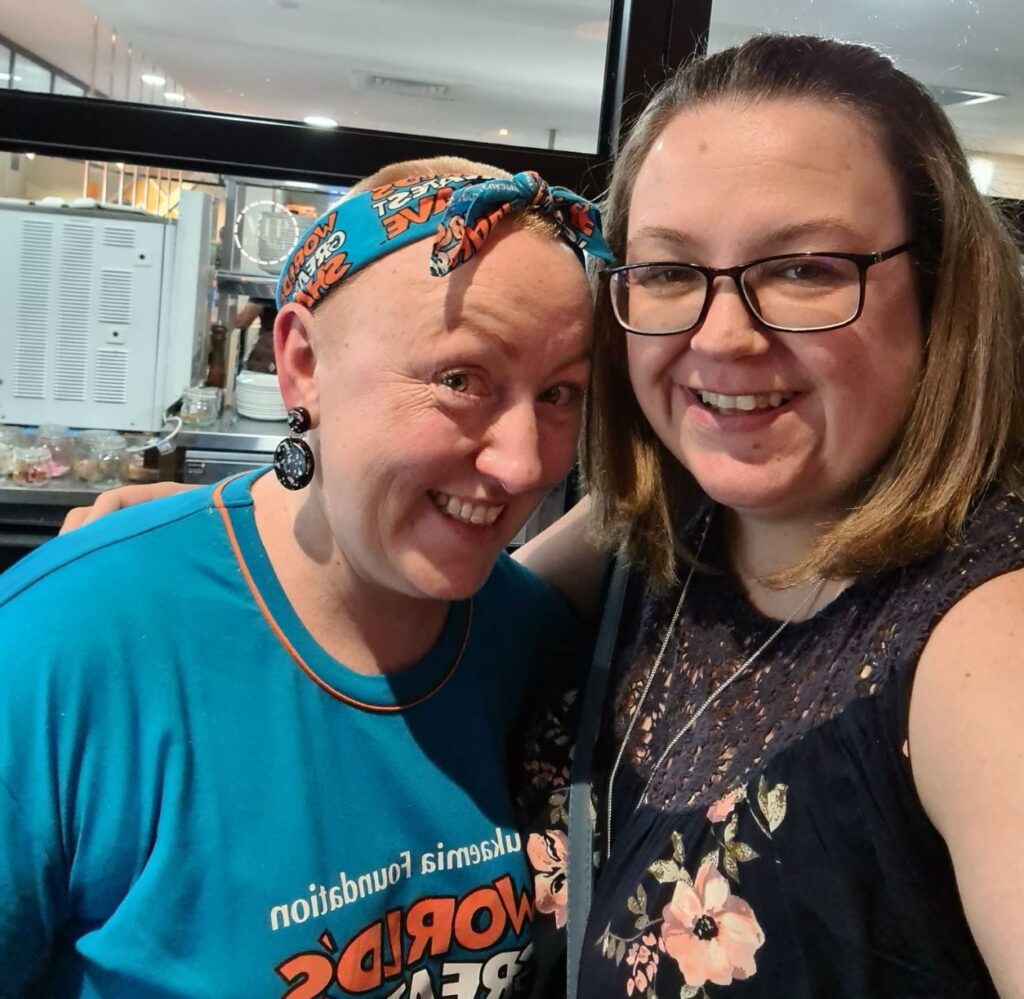 In 2020, Melissa Woodward's father, Wayne Malone, was diagnosed with acute myeloid leukaemia.
In January 2021, Mr Malone lost his fight to a disease that was very aggressive.
"At the time, we didn't know what support was available as Covid put up barriers to accessing services,'' says Ms Woodward, a mother of two who also runs her own local business.
"We worked together as a family to get him from Tahmoor to Liverpool for appointments and regular visits to drop in food, clean clothes, and whatever he needed during his hospital stays for chemotherapy.
"We realised that other families don't have the ability to get their family members to appointments and therefore rely on the Leukaemia Foundation to provide transport and accommodation, especially if they live in regional areas.''
Just a few weeks after her father passed away, Ms Woodward shaved her head as part of a team to help raise funds for Leukaemia Foundation.
On Friday, March 18, she will back at it again at a World's Greatest Shave – Macarthur event to be held at Wests League Club.
Ms Woodward will be leading a team called Chopitlikeitshot, which currently has 10 members, including Amy Woodley (pictured above from 2021 with Ms Woodward), Jacqui Symonds-Poynton, Katherine Elizabeth and Janelle Leggett, who will also shave their heads for Leukaemia Foundation.
Clair Malone, Kez Morgan, Janet Kingston and Melissa Woodward will be getting their hair coloured.
Wests staff member Leanne Richmond is stepping up to represent Wests, by colouring her hair, following the passing of her own father to leukaemia, and will be joined by her brother Jamie, who will be going for the shave.
Wests Group deputy chairman and former Campbelltown mayor Paul Lake has also put his hand up to have his hair coloured for a good cause.
Wests Group will be matching donations from the event up to $1,000.
The event will be open to Wests members and visitors; light refreshments will be on offer with a gold coin donation.
Attendees are invited to jazz up their hair with some coloured spray for $5 or chop off their ponytail for $10, with all proceeds going to the Leukaemia Foundation.
"We are pleased to be able to support and draw attention to the important work of the Leukaemia Foundation thus assisting to fund vital research to help more people survive blood cancers,'' says Wests Group chairman Alan Buxton.
If you'd like to support this fundraising event register your interest to attend on March 18 (3pm-6pm) and to shave, cut or colour; purchase a $5 raffle ticket from reception at any Wests venue or donate to the team today via http://my.leukaemiafoundation.org.au/chopitlikeitshot