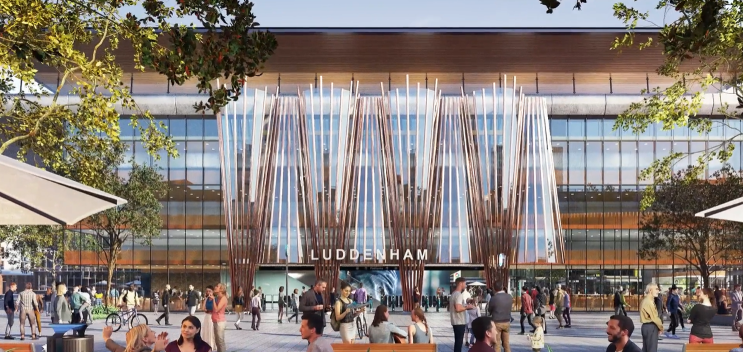 A major contract has been awarded as part of the new Sydney Metro – Western Sydney Airport line.
The $538.5 million contract to deliver approximately 10.4 kilometres of surface and civil alignment works has been awarded to CPB Contractors and United Infrastructure.
The contract includes 3.5 kilometres of elevated viaduct at Orchard Hills and Luddenham and 6.7 kilometres of earthworks for track formation.
A 190 metre long rail bridge over the new M12 motorway will be part of the project, as will a 20m rail bridge within the airport, temporary and permanent access roads and bulk earthworks for the stabling and maintenance facility site.
The driverless 23-kilometre metro line will link St Marys to the centre of the new Aerotropolis at Bradfield via the new Western Sydney International (Nancy-Bird Walton) Airport. Six stations will also be built along the alignment, including at Luddenham, pictured above..
The state government says work on the project will be "ramping up in coming months, providing a significant boost for the region creating 14,000 new jobs'', including 250 apprenticeships during construction, and with at least 20 per cent of the workforce to be from Greater Western Sydney.
The Sydney Metro – Western Sydney Airport project is jointly funded by the Australian and NSW governments.
The third and final major contract package to be procured for the project is expected to be awarded at the end of this year.
Premier Dominic Perrottet said this new rail line will become the transport spine for this growing region, with government investment unlocking a new city that will take shape before our eyes.
"This project is creating significant economic stimulus for Western Sydney, ensuring there is a steady pipeline of opportunities for young people in the years to come," Mr Perrottet said.
"A world class city deserves a world class transport system, this is the next stage in delivering that for the people of Sydney."