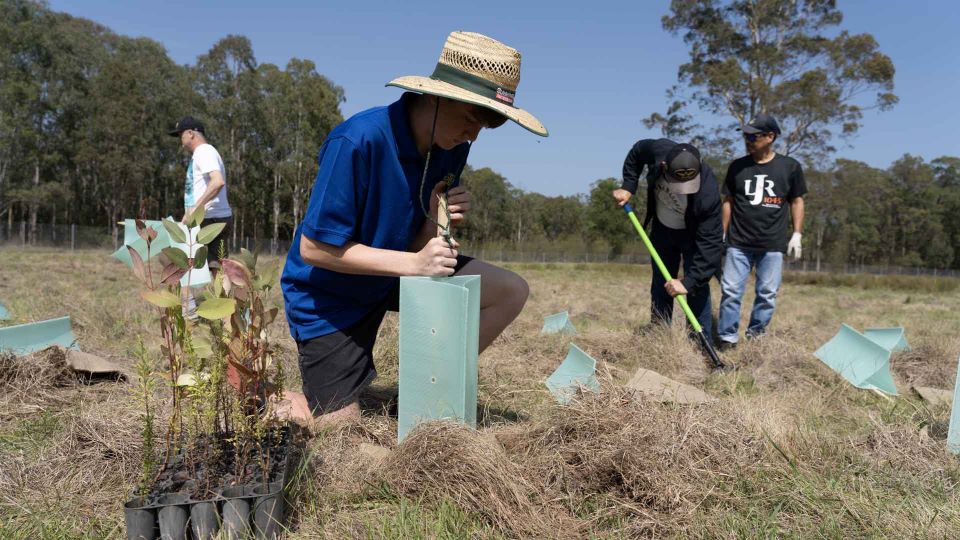 Western Sydney International (Nancy-Bird Walton) Airport (WSI) has joined forces with members of local Rotary clubs to undertake a major tree planting project to rehabilitate the local environment.
WSI team members and other volunteers planted more than 2,000 native trees under the guidance of Rotary experts to make a positive impact on the environmental conservation zones around the airport.
One local resident, Simone Schokman, planted a grove of trees for her late father, Maurie.
"My dad set up an organisation in the Philippines for underprivileged kids," Ms Schokman said.
"It was an emotional moment standing on-site and looking at the grove that we planted in memory of my dad. I know that he would have been proud of the work we are doing here.''
The environmental conservation zones are located along Badgerys Creek, on the southern perimeter of the airport site, Oaky Creek, along the north-western perimeter and Willowdene, on the south-western part of the airport site and total approximately 117 hectares.
These areas have been allocated for biodiversity rehabilitation and for the protection of existing Aboriginal heritage.
WSI staff will replace exotic grasslands with suitable native vegetation, rehabilitate existing remnant and native vegetation and provide ongoing protection of biodiversity and environmental values.
The rehabilitation of the environmental conservation zones will help to maintain vegetation connectivity with areas outside the zone and to promote pollination, seed fall and other ecological processes that are necessary to maintain plant populations.
This will help flora populations to persist within adjoining areas of alternative habitat beyond the airport site.
Once rehabilitated the zones will also assist in filtering surface water, which will improve water quality in the local creeks.
"This initiative is not only beneficial for the environment," says Katy Hannouch, general manager for community engagement and social impact at WSI.
"It also promotes community engagement and allows us to collaborate with the local Rotary members to leverage their expertise and resources to ensure that the project is a success.
"WSI is an environmentally conscious and socially responsible organisation.
"We hold sustainability as an important objective and this project has fostered a sense of shared responsibility for environmental conservation.
"Hopefully, this project and projects like it will help to raise awareness and will empower individuals in the area to make more environmentally conscious choices in their daily lives.
"There's something magical about planting a tree and knowing that it will grow and flourish for years to come.
"This project allows our staff to experience the joy of giving back to the environment and leaving a lasting legacy."