Thirlmere Roosters claimed the outright lead in Group 6 Rugby League after downing Camden Rams 36-24 during Round 7 on the weekend.
Narellan celebrated their first win of the season under captain coach Peni Terepo, defeating the Picton Magpies 36-32 at Crane Oval.
In other results, Oakdale posted a solid win over South West Goannas, while Mittagong defeated The Oaks 28-12 at Dudley Chesham Oval to stay entrenched in the top five. Campbelltown City Kangaroos had the bye in first grade.
On Sunday Thirlmere hosted Camden in a battle for the top spot at Thirlmere Sportsground.
The home sider suffered a blow with Jacob Loko being a late withdrawal, but this didn't seem to hurt their style of play.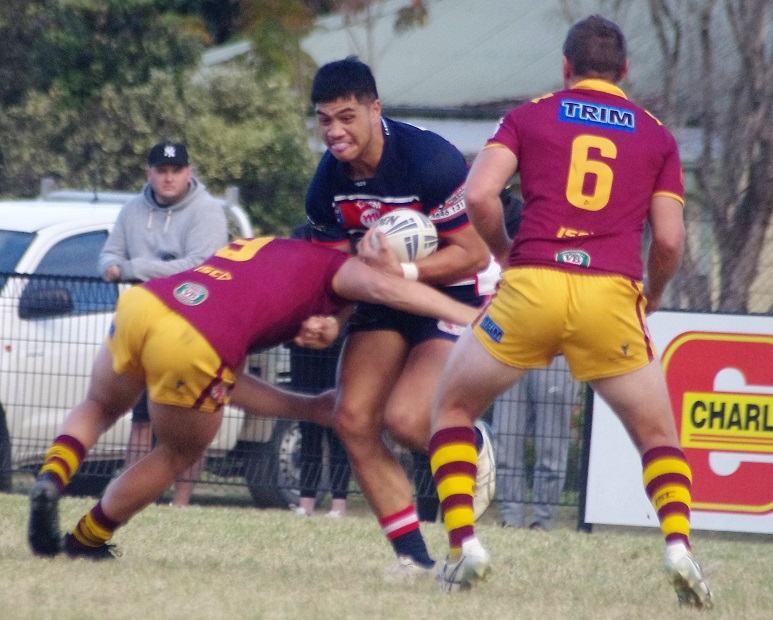 Hayden Sutton scored a first half double for the Roosters, but Camden winger Jay Kirk's first half pair ensured the Rams were within touching distance at halftime, as they trailed 22-18 at the main break.
The second half was akin to the first half, with neither side giving away too much in defence, as two of the competition heavyweights traded blows in the fight for top spot.
Thirlmere's two tries to one in the second half saw them come away with a 36-24 win over the Rams, but the visitors will know they have been in a contest and are well within reach of the Roosters as the mid-season point approaches.
Thirlmere's halves of Damon New and Dayne Craig led the side nicely around the park, with props Matt Scott and Kye Madden laying a platform for the halves to work their skills.
Camden's halves in Jarrod Brackenhofer and Brad Speechley certainly matched their opponents, with the Camden pack, led by Bailey Dickinson and Ben Powers, keeping pace with the Roosters.
On Saturday night, Oakdale did enough to defeat South West Goannas 74-12 at Onslow Oval in cold conditions.
Oakdale were always in control of the match against the Goannas, but the home side ensured the Workers were made to earn the victory.
The Oakdale left hand side attack was damaging, with centre Addison Demetriou causing havoc for the Goannas defence, scoring a double in the process.
Mitchell Brasington directed traffic nicely from five eighth and had a good night with his kicking boots as well, kicking 10 goals from 11 attempts for a personal tally of 20 points.
The Goannas have been improving during the season, posting a season-high 12 points and proving to be more than a handful for the Workers side.
RESULTS – ROUND 7 – FIRST GRADE
South West Goannas 12 Oakdale Workers 74;
Thirlmere Roosters 36 Camden Rams 24;
The Oaks Tigers 12 Mittagong Lions 34;
Narellan Jets 36 Picton Magpies 32.
Campbelltown City – BYE.
RESERVE GRADE
South West 10 Oakdale 16;
Appin Dogs 14 Campbelltown City 24;
Thirlmere 24 Camden 10;
The Oaks 16 Mittagong 18;
Narellan 18 Picton 16.
UNDER 18
Mt Annan Knights 12 Warragamba Wombats 14;
Appin 10 Campbelltown City 16;
The Oaks 10 Mittagong 30;
Thirlmere 16 Camden 36.
Narellan – BYE.
WOMEN'S LEAGUE
Thirlmere 0 Camden 56;
Campbelltown City 28 Oran Park Chargers 8;
Narellan 6 Mittagong 18.
LEAGUE TAG
Campbelltown City B 0 Oakdale 48;
Narellan B 0 Campbelltown City A 50;
Thirlmere 6 Camden 46;
The Oaks 20 Mittagong 4;
Narellan A 32 Picton 0.
THIRD GRADE
Appin 20 South West 34
Campbelltown City 24 Picton 16;
South West 24 Camden 30;
Mt Annan 18 Warragamba 12;
Mittagong 16 Oran Park (Blue) 46.
Appin def Oran Park (Green).
NEXT WEEK – ROUND 8 – FIRST GRADE
South West v Narellan (Saturday 6.30pm);
The Oaks v Camden,
Oakdale v Mittagong,
Campbelltown City v Thirlmere (all Sunday 2.30pm).