A little bit of culture is headed Macarthur region's way next month.
Legendary composer Tchaikovsky's final full length opera The Queen of Spades will hit the big screen at Event Cinemas Campbelltown on February 16, 17 and 20.
It is part of the Royal Opera House 2018/19 Live Cinema Season when The Queen of Spades will be screened at 19 Event Cinemas and 7 Village Cinemas locations across the country, including Event Cinemas here in Campbelltown at Macarthur Square.
Based on a short story by poet Alexander Pushkin, the Queen of Spades follows Gherman, a soldier torn between love and a destructive fixation with gambling.
The opera set in 1890 explores madness, obsessive passions and the supernatural, with the characters giving voice to Tchaikovsky's own unfulfilled desires.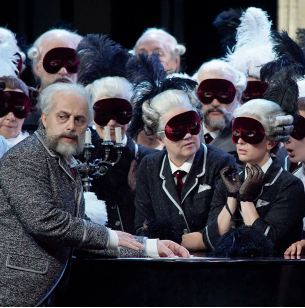 Audiences in Australia are never far from a performance at the Royal Opera House, with the performances screened in 19 Event Cinemas nationwide and from 7 Village Cinemas in Victoria and Hobart until July 2019.
During 2018/19, the Royal Opera House in London's Covent Garden will exclusively present 10 thrilling performances of world-class opera and ballet to cinemas across Australia.
This forms part of the Royal Opera House's celebrations of 10 years of cinema broadcasting in 2018 and of selling more than one million cinema tickets worldwide during the 2017/18 Season.
All Wednesday sessions at Event Cinemas will include complimentary morning tea.
Tickets cost $20 for adults, $18 for concessions, $102 for a multi pass to six titles.
For tickets and further information visit www.eventcinemas.com.au/roh and www.villagecinemas.com.au