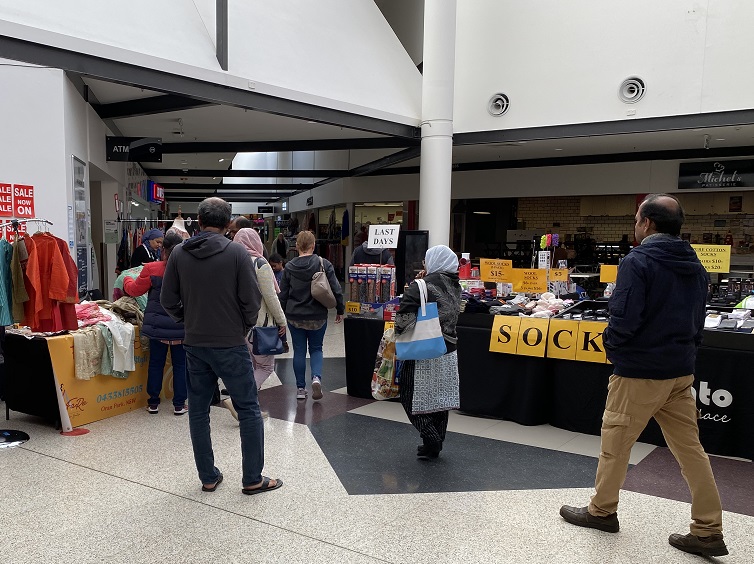 Maybe the genius who allowed this scene to occur at Minto Marketplace didn't get the memo about the pandemic. But it beggars belief that stalls were allowed to be set up which ended up creating a very narrow path for everyone to go through as they moved from one part of the shopping centre to the other.
Normally this part of the centre is quite wide and everyone can social distance quite easily, but not last Thursday, when the car park was full and the main tenant, Woolies, was packed to the rafters.
It was obvious many shoppers felt uncomfortable and stood back and waited until it was safe to go through that narrow space.
A second path to the left of the stall pictured on the right wasn't much wider.
Other shopping centres have got the message, and credit to Macarthur Square in particular, where social distancing is easy while moving from one part of the centre to another.
And to be fair, Minto Marketplace had been keeping its spaces as open as possible in recent weeks, so hopefully last week's dropping of the guard was a one off.
xxxxx
And while we're on the pandemic, it was good to see our koala colony champion Ricardo Lonza test negative for Covid-19 last week.
Lonza, while still maintaining the rage about our koala colony, has been using his energy in the past few months to encourage us all to support our local small businesses.
In 2019 the Ruse resident was named Campbelltown Australia Day citizen of the year, but an Order of Australia honour must surely be next.
Especially when you see some of the people who are given such honours, but that's another story.
And we definitely won't mention the local who recently nominated themselves for a gong – and got one.
xxxxx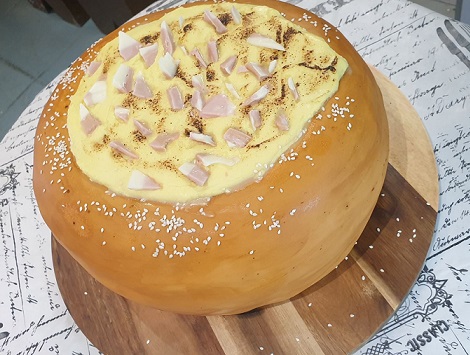 This cob loaf made of vanilla and choc sponge inside with ganache helped the community minded Sonya Moulang and her team celebrate four years of operating one of Campbelltown's favourite cafes, Bar Centrale. Happy birthday and congratulations. PS. Our spies tell us the cob loaf was delicious and bad luck we couldn't get to the cutting of the birthday cake!
xxxxx
One of our great little community service groups is the Vietnam Veterans Association of Australia Macarthur Sub-Branch Inc, which has just got a grant of just under $3,000.
It was one among five Ex-Service Organisations (ESO) in Western Sydney providing advocacy services to veterans and their families to receive funding under the federal government's Building Excellence in Support and Training (BEST) grants program.
xxxxx
If you're a local artist, listen up: Entries open on Saturday, August 1 to the 58th Fisher's Ghost art award.
We're telling you this because if your entry wins the Open category the prize is a handy $25,000 in your bank account.
Indeed there will be a total of $36,000 in prize money to be won across the various categories, so get cracking.
It would be nice to see a local artist win the Open category, but we won't hold our breath.
Entries will close on September 2, while the finalists will be announced on September 30.
On Friday, October 30, at the traditional jamboree at the arts centre, which also signals the start of the Fisher's Ghost Festival, the winner will be revealed.
xxxxx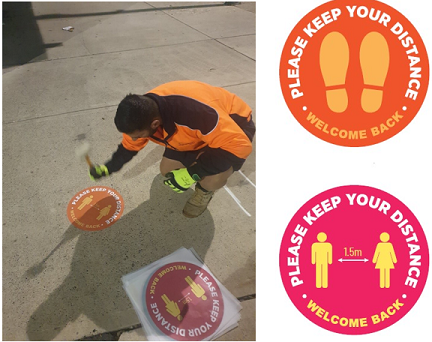 A series of welcome back messaging stickers have been placed along both Queen Street, Campbelltown and Oxford Road, Ingleburn.
The stickers have been placed on the footpaths to encourage residents and visitors to maintain social distancing while re-entering public spaces since restrictions have recently eased and to welcome people back to Campbelltown.
The stickers form a part of the wider activation program proposed for Queen Street.
xxxxx
As soon as they found out some Western Sydney University international students were doing it tough, Ingleburn Rotary didn't waste any time in organising food packs.
Ingleburn Rotary joined forces with the South West Multicultural and Community Centre based at Minto to prepare the food packages for the students.
But the Rotarians from Ingleburn didn't just help students living in university accommodation in South Western Sydney: they also alerted other Rotary Clubs and students from other campuses around Western Sydney were also helped out.
xxxxx
Ingleburn Rotary deserves a second mention in this Macarthur Chatter: they have just elected their first ever female president, Gail Taylor.
Not wanting to be unkind, but not before time, fellas.