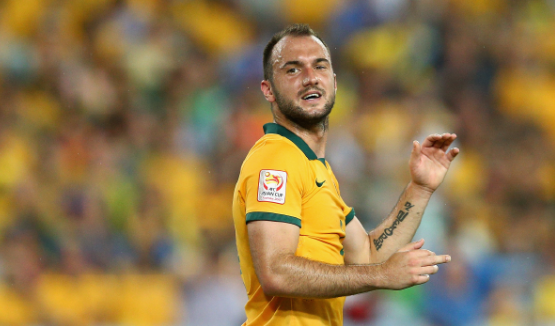 The signing of Ivan Franjic means at least four Socceroos will be wearing the Macarthur FC colours when the newest franchise in Australia joins the A-League later this year.
There may well be more by the time the inaugural roster is put together, but as of now there's a foursome awesome of Socceroos in the Bulls pen.
Welcoming Franjic to the club will be some familiar faces including his former Socceroo teammates from the 2014 World Cup and 2015 Asian Cup, Mark Milligan, and Tommy Oar.
The fourth member of the Macarthur FC Socceroos quartet is goalkeeper Adam Federici.
Franjic, an experienced defender on the left edge, joins Macarthur FC after previous A-League stints with Brisbane Roar, Melbourne City, and most recently Perth Glory, who went down in the semi-final to eventual champions Sydney FC.

Amassing 241 top league matches and 20 caps for the Socceroos, the 32-year old is no stranger to Macarthur FC head coach, Ante Milicic.
The pair were together in the national team set up during both the 2014 World Cup in Brazil and the 2015 AFC Asian Cup in Australia, when Milicic was assistant to Socceroos coach Ange Postecoglou.

Milicic says Franjic's experience will be invaluable to the A-League newcomers.

"Working with Ivan during my time with the Socceroos I know he is they type of player we want at our club,'' MIlicic said.
"He brings a lot of experience to our roster, someone the younger players in our squad can look up to for guidance.
"Seeing him link back up with Millsy (Mark Milligan) and Tommy (Oar) gives me great delight." Milicic added.

Franjic said he was excited for the new challenge with the Bulls.
"Speaking with Ante about the opportunity to create and be part of a club from the very beginning at Macarthur FC was something I was very excited about,'' he said.

"It is an honour for me to be part of the inaugural squad. To be able to create something special for the region and for Bulls fans will require a lot of hard work however I believe it will be all worthwhile.
"Having worked with Ante and played with Tommy and Mark in the Socceroos is a bonus for me. I'm looking forward to hitting the pitch and beginning pre-season with the lads."