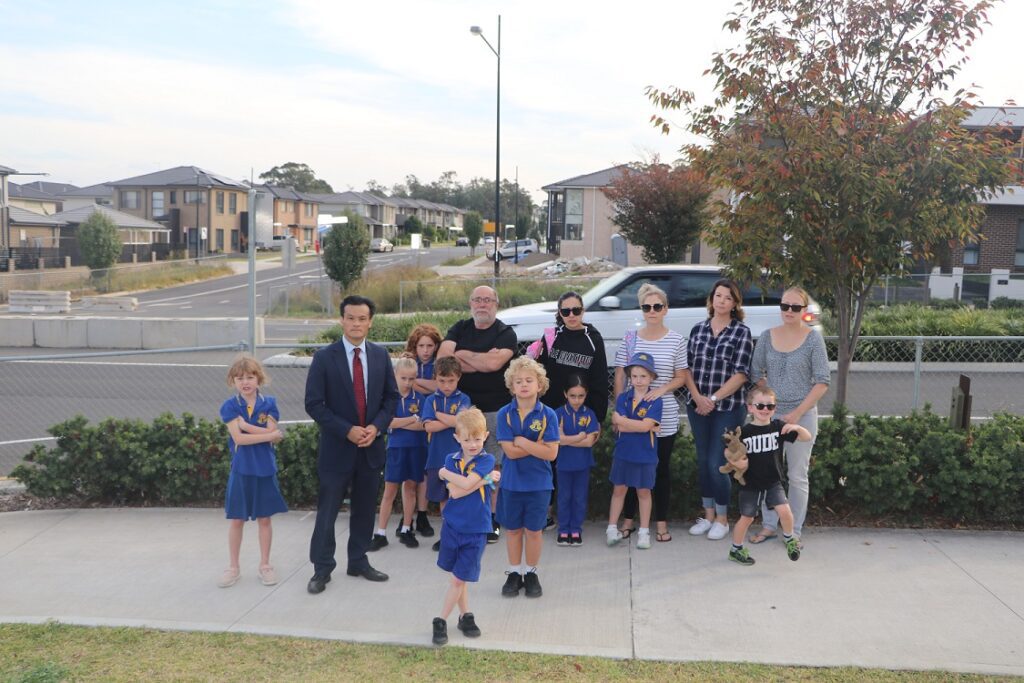 Community concerns regarding road and pedestrian safety around Bardia Public School have been ongoing since the redeveloped school opened in 2019.
In a few short years the school's population has tripled from 300 students to around 900 students.
The school's population is set to grow further, and in coming years there will more than 1000 students.
Now, as the school deals with worsening traffic chaos during drop off and pick up times, there are calls for the installation of traffic lights before a tragedy takes place.
The local state MP, Anoulack Chanthivong, has renewed his calls for traffic lights at the intersection of Arthur Allen Drive and MacDonald Road.
The member for Macquarie Fields, pictured above with parents and students, wants urgent action in response to the concerns of local parents.
"The roads surrounding the school are choked with congestion, parking is severely limited and parents are frustrated by daily dangerous driver behaviour," he says.
"Parents, students and teachers desperately want to see improvements to road safety around Bardia Public School before it is too late,'' he says.
"Giving a green light to traffic lights as soon as possible will provide a safe place for people to cross the busy intersection and be a victory for community safety.
"It should not take a tragedy to prompt this government into action," Mr Chanthivong said.
Mr Chanthivong has championed interim measures to help improve safety around the school, such as concrete dividing road safety barriers on MacDonald Road and the introduction of 40km/hour school zone on MacDonald Road and Arthur Allen Drive.
But he says the temporary measures do not go far enough, and he wants the Liberal Government to act urgently to have the traffic lights installed and operational as a matter of priority.
"Give a green light to Bardia Public School's traffic signals now. Any delay could be tragic."