Glen Alpine resident Kevin Dillon served in the NSW Police Force from 1982 to 1995.
During that time he worked at Campbelltown Police Station, the Police Academy, the specialist school and also within the force's intelligence group.
Mr Dillion also spent 23 years working in the Parliament of NSW's counsel's office – meaning he has spent more than 35 years in public service.
This week he was presented with a NSW Police Medal.
The medal is awarded to former police officers who complete 10 years of diligent and ethical service.
The State Member for Campbelltown, Greg Warren, officially presented the honour to Mr Dillon during a recent visit to the MP's Queen Street electorate office.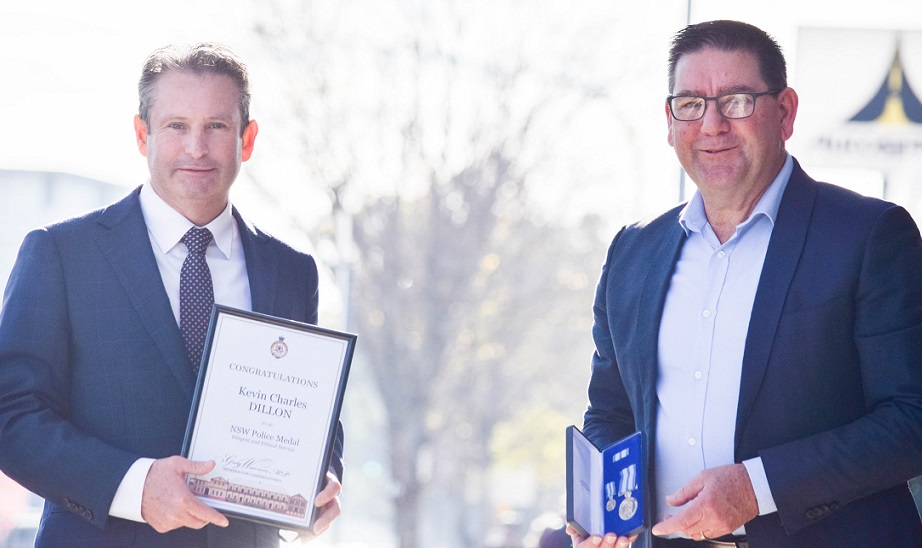 "There is no doubt that a career in the NSW Police Force is extremely rewarding, but it obviously has many challenges as well," Mr Warren said.
"To spend such a long time in the force is a credit to Mr Dillon's dedication to the community he served.
"Police officers prioritise the welfare of the community they are tasked to protect and serve, more than they do their own safety – and they do that with little fanfare.
"It's a privilege to officially honour those who served our community so valiantly, like Mr Dillon."
Meanwhile Kevin Dillon – who moved to the Campbelltown area in 1984 – said he planned to spend more time refining his golf game on his local course, Campbelltown Golf Course, once he officially retires later this year.