Recently endorsed as a case study by the Heart Foundation in their Healthy active by design program, The Hermitage master planned community at Gledswood Hills has witnessed a significant uplift in interest from purchasers seeking an outdoors lifestyle.
Campbelltown exercise physiologists, Danielle and James Wallace, owners of Active Solutions Health (NSW), say they chose to live at The Hermitage because of its green spaces and footpaths.
The couple, who have a son, William, were both born and raised in the local area and studied at Western Sydney University.
"We knew we could easily go for a short or long walk and vary the route to make it interesting,'' says Ms Wallace, pictured below with James and little William during a walk at the Hermitage.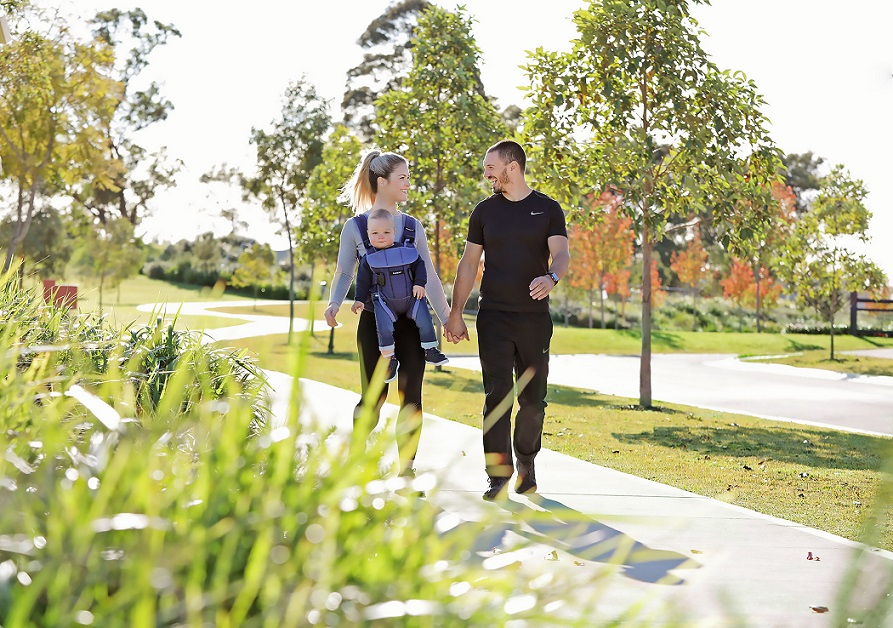 "When we initially came through the suburb, we saw other residents being active and loved that the area makes this easy and enjoyable to do so.''
Boasting more than 150 hectares of dedicated parklands, green open spaces and a 120 hectare golfing precinct, including the future Greg Norman signature course, The Hermitage offers a wide range of community and lifestyle options.
Developed by Sekisui House, The Hermitage offers a connected community, underpinned by a design philosophy promoting healthy and active living.
In the last two months there has been a sales uplift of 55 per cent when compared to March and April figures, and a 147 per cent increase on the same two month period last year.
"There has been strong levels of interest across all product offerings at The Hermitage, including golf side vacant land lots, park side terraces and executive Shawood homes,'' says Craig Barnes, sales and marketing manager at Sekisui House.
"One of the fundamental aspects underpinning the masterplan is accessibility to open spaces. People have become more aware of the importance of spending time outside, capitalising on the associated benefits.''
Mr Barnes said that enquiry levels accelerated in May following the easing of restrictions in NSW, as did buyer confidence.
"Transactions post lockdown are currently exceeding pre Covid sale rates for both homes and land,'' he said.
"Recent buyer activity and habits are leaning towards adaptable floorplans that can accommodate a work from home environment. It appears that this trend is set to continue well into the future as many businesses re-evaluate whether to return staff back to the office full-time.''