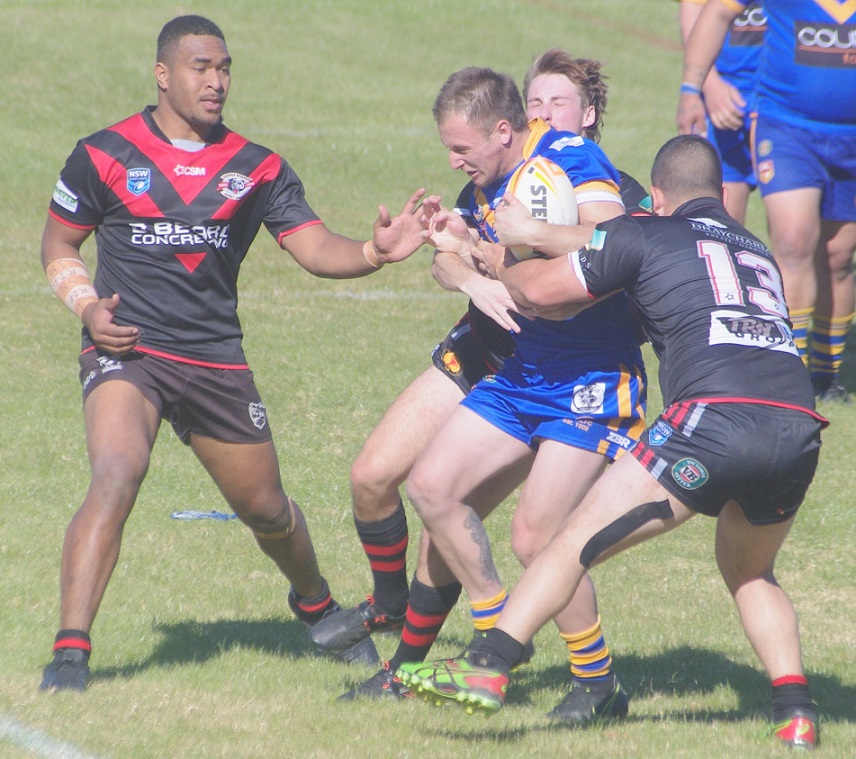 Oakdale Workers staged an incredible comeback to defeat Campbelltown City Kangaroos in a terrific game of rugby league at Sid Sharp Oval yesterday.
The Workers won 32-30, but they trailed for the majority of the round five clash.
At one stage the visitors were ahead 30-10 but the Workers never gave up home.
Oakdale took the lead through centre Josh Burke, who was one of the stars for the Workers.
Burke ended up with a personal haul of 16 points through four tries.
His first try nine minutes after the kick off opened the scoring for the afternoon and got the large home crowd get going.
Campbelltown City then replied, with second rower Tukaha Kyriacou crossing on 15 minutes to give the lead to the Kangaroos.
The second quarter of the game belonged to City, with tries to Freddy Kini and James Tautaiolefua, as the Roos kicked out to an 18-10 lead at halftime.
Halfback Ben Stevanovic was deadly from the kicking tee, landing all five attempts.
Goalkicking was an issue for the Workers, with a collective total of two from seven attempts, with Jake Steadman converting two of his four attempts.
The second half started with Tautaiolefua's second try for City, which gave them a 24-10 lead, and it appeared as though the Kangaroos were heading to an easy victory over the previously unbeaten Workers.
Front rower John Trimboli then crashed over to give the visitors a 30-10 lead, but with 30 minutes remaining in the match, captain coach Michael Stevens would have known they weren't home just yet.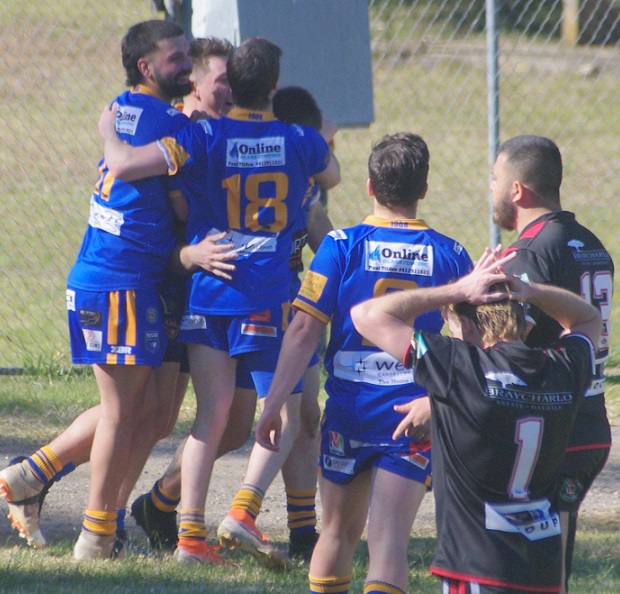 And with Burke replying in kind with a pair of tries in the space of nine minutes, the momentum turned heavily in favour of the home side.
At the drinks break with 20 minutes remaining, the sides came together, with Burke needing treatment following his fourth try, and both sides were reduced to 12 men following a scuffle.
However, Oakdale were back in the game, even at 30-22.
The final 20 minutes was all action, as Oakdale tried to find a way through the City defence.
Not that it was all defence for the Kangaroos, who continued to attack whenever possible.
Oakdale fullback Mitchell Gough sliced through the City defence with 14 minutes to go, reducing the margin to just four points, and when Matt Whitehouse scored with seven minutes left, the Workers had retaken the lead.
The locals weren't to be denied in the final stages, and held on for the two point victory.
The other match in Round 5 saw Thirlmere Roosters prove too strong for a determined and tough The Oaks Tigers outfit at Dudley Chesham Oval, recording a 36-24 victory, which sees them sit in second place ahead of next weekend's home game against Mittagong.
RESULTS – ROUND 5 – FIRST GRADE
The Oaks Tigers 24 Thirlmere Roosters 36;
Oakdale Workers 32 Campbelltown City 30.
Mittagong Lions bye.
LADDER: Oakdale 10; Thirlmere 8; Campbelltown City 6; The Oaks 4; Mittagong 2.
SECOND GRADE
Appin Dogs 20 Mittagong Lions 24;
The Oaks 0 Thirlmere 52;
Oakdale 24 Campbelltown City 22;
Narellan Jets 26 South West Goannas 16.
UNDER 18
Camden Rams 42 Campbelltown City 10;
Appin 14 Mittagong 30;
Narellan Jets 16 Mt Annan Knights 48.
Thirlmere bye.
WOMEN'S LEAGUE
Mittagong Lions 0 Highlands Storm 10 (Deferred from last weekend. Played on Wednesday night);
Highlands Storm 0 Thirlmere Roosters 18;
Narellan Jets 48 Mittagong Lions 0.
Campbelltown City bye.
LADDER: Narellan 10; Thirlmere 8; Campbelltown City 6; Highlands 4; Mittagong 2.
LEAGUE TAG
Narellan White 14 Mittagong 18;
Thirlmere 14 City Gold 26;
Oakdale 5 City Blue 0;
The Oaks 6 Camden 26.
Narellan Blue bye.
THIRD GRADE
Camden Rams 10 Warragamba Wombats 28;
Highlands Storm 62 Mt Annan Knights 4;
Narellan Jets 38 South West Goannas 16.
Oran Park Chargers bye.
NEXT WEEK – ROUND 6 – FIRST GRADE
The Oaks v Oakdale (Saturday 5.30pm);
Thirlmere v Mittagong (Sunday 3pm).