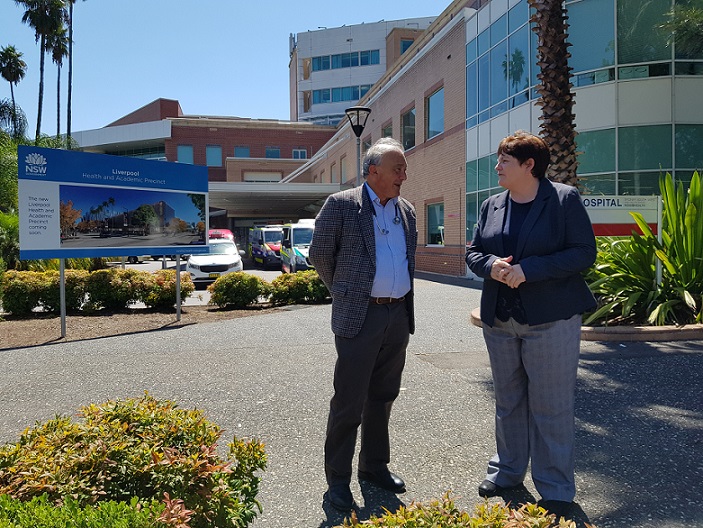 The two Labor MPs representing outer South Western Sydney have called on the Federal Government to acknowledge and address the chronic under funding and resourcing of services and infrastructure in the region.
Anne Stanley, Member for Werriwa, tabled a motion in parliament which was seconded by the Member for Macarthur, Dr Mike Freelander.
The two MPs, pictured outside Liverpool Hospital, say there's a real need for greater investment in South Western Sydney.
"Residents of South Western Sydney have long been short changed,'' Ms Stanley said.
"The evidence is clear; public transport, education and health have all been neglected by the State and Federal Governments.''
While highlighting existing shortfalls in our region, Ms Stanley also called for more investment for future suburbs.
"In the coming years, newer suburbs in my electorate are forecast to house a population the size of a regional city,'' she said.
"Like those regional cities, these areas will need critical services like a hospital, a police station, and an ambulance station.
"The people of Werriwa are taking their fair share of population growth – they also deserve a fair share of the infrastructure and services to support it."
Dr Freelander said the region was experiencing exponential population growth.
"Yet we have Coalition Governments in Canberra and Sydney that consistently ignore our needs," he said.
"The Coalition will consistently pork-barrel taxpayers' money, yet are starving our region of investment.
"It is essential that the government begins investing heavily in local infrastructure to create local jobs and support local businesses, if our economy is to recover in the wake of the Covid-19 pandemic," Dr Freelander said.