Excavation has started at Liverpool Civic Place, a $1 billion project that is set to transform the face of Liverpool.
Liverpool Mayor Wendy Waller and councillors joined representatives from project partner Built in a sod-turning ceremony to mark the start of excavation at the Scott Street site.
With demolition at the site commencing last November, the mixed-use development is set to bring a number of exciting opportunities to those that live and work in the area, including new council offices and chambers, a childcare facility, city library and community hub, a Civic Plaza and public parking.
Cr Waller said Liverpool Civic Place, with its new public spaces, community facilities and job opportunities, along with Built's plans for a commercial tower, to accommodate a combination of commercial, retail and education spaces and a 7-level co-living accommodation building, sends strong messages about a modernising Liverpool.
"Last November we stood at this place to begin demolition. Today, we gather here to begin to build," Cr Waller said.
"Liverpool Civic Place will be more than a destination. It will be an experience that the community will be proud of.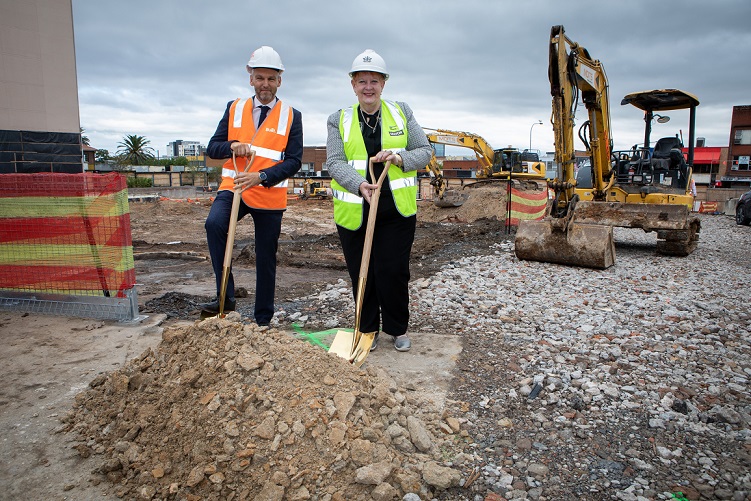 "Council approved more than $1 billion in development applications in 2020, the fourth consecutive year that has happened," she said.
"That is an enormous vote of investor confidence in our city.''
Built managing director and CEO, Brett Mason, said the company was excited to have reached the next important milestone for Liverpool Civic Place.
"With the site now cleared, our focus will now be on undertaking the major excavation works so we can lay the foundations for the new civic library, council offices and community facilities later this year,'' he said.
"We are also progressing the plans for the next stage of the project which will include new commercial and mixed use accommodation that will truly activate Liverpool Civic Place into a thriving community hub," he said.
Liverpool Civic Place is due for completion in 2023.