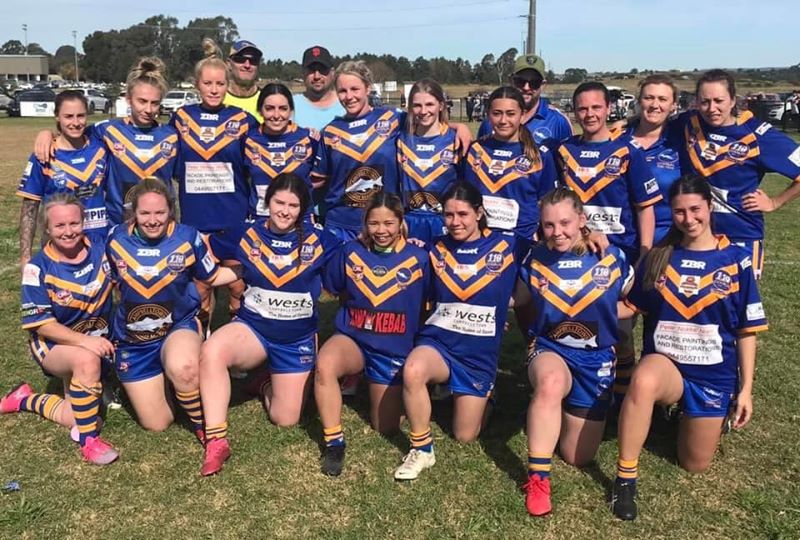 Group Six rugby league finally returned to the playing fields of Macarthur and Wollondilly on the weekend.
And while the absence of powerhouses Camden Rams and Picton Magpies will be missed, round one showed that there will still be plenty of highlights over the next six weeks.
The Campbelltown City Kangaroos started with a bang, defeating the Narellan Jets 26-12 in a gritty encounter at Crane Oval yesterday.
But the Kangaroos were also celebrating a big milestone: the club's first ever women's rugby league team playing for premiership points.
To put it into perspective, that's the first time in 112 years the "16 trailblazers'' pictured above took to the field against Narellan.
The Kangaroos women were narrowly defeated but that didn't detract from the historic occasion.
In the men's first grade, the Thirlmere Roosters were too good for Mittagong Lions, while Oakdale Workers won the battle of Burragorang, defeating neighbours The Oaks Tigers 30-16 at Sid Sharpe Oval.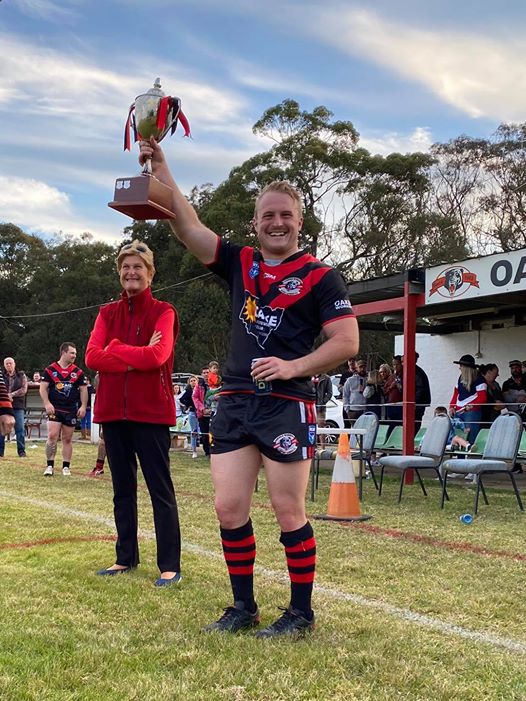 It meant the Workers could once again hoist the Chesham Sharp cup (pictured).
Campbelltown City had a disappointing season in 2019, so starting off a new season, even a Covid-19 affected one as this one – with a win was a relief for the club.
The game never really reached any great heights, and both sides had a player sent to the sin bin in the second half, reports MIKE SHEAN.
Narellan drew first blood, with winger Jarrod Forrest bagging a double inside the opening 10 minutes.
Both tries came from slick hands down the Narellan left hand side, with Forrest providing NRL style acrobatic finishes in the left corner on both occasions.
Campbelltown City returned fire with a try before the opening drinks break on 20 minutes when Josh Lomani scored.
The Kangaroos converted, something Narellan had failed to do, to trail by just two points at 8-6.
Rua Ngati, who was dangerous for the Kangaroos all day, crossed for his first try of the afternoon eight minutes before halftime.
This gave the visitors the lead, which they never relinquished for the remainder of the afternoon.
The Jets were able to draw level 12-12 three minutes before halftime when Jacob McKinnon scored but that's as good as it got for the home side.
Indeed Narellan will be ruing poor goalkicking, with McKinnon unable to convert any of his three attempts in the first half.
The second half saw Campbelltown City open the scoring when Ngati posted his second try of the day seven minutes after the resumption.
Halfback Sean Connor added a penalty goal to his third conversion of the day with 17 minutes left, giving the visitors a 20-12 lead.
Ngati bagged his hat-trick with eight minutes to go, sealing a 26-12 win in the process. He was City's best, along with veteran backrower Chris Williamson, Connor and Bailey Steadman in the halves, and fullback Joseph Romeo.
Narellan's best included centre and debutant Bryce Crane, who was excellent in attack and defence, returning winger Allan McGrath, halves Jacob McKinnon and Ben Roberts, and hooker Jermaine Haule.
Nathan Wilkins also worked hard in the back row all afternoon, with several strong runs.
RESULTS – FIRST GRADE
Narellan Jets 12 Campbelltown City 26;
Mittagong Lions 20 Thirlmere Roosters 66;
Oakdale Workers 30 The Oaks Tigers 16.
SECOND GRADE
Narellan 32 Campbelltown City 20;
Appin Dogs 16 South West Goannas 14;
Mittagong 0 Thirlmere 26;
Oakdale 14 The Oaks 32.
UNDER 18
Narellan 24 Campbelltown City 12;
Appin Dogs 10 Mt Annan Knights 14;
Mittagong 18 Thirlmere 0.
Camden – Bye.
WOMEN'S LEAGUE
Narellan 18 Campbelltown City 8;
Mittagong 6 Thirlmere 32.
Highlands Storm – Bye.
THIRD GRADE
Oran Park Chargers 8 Highlands Storm 32;
Warragamba Wombats 16 Narellan Jets 40;
Mt Annan Knights 18 South West Goannas 20.
Camden – Bye.
LEAGUE TAG
Narellan White 4 City Gold 0;
Narellan Blue 20 City Blue 14;
Mittagong 22 Thirlmere 10;
Oakdale 46 The Oaks 0.
Camden – Bye.
NEXT WEEK – ROUND 2 – FIRST GRADE
The Oaks v Campbelltown City;
Thirlmere v Narellan;
Mittagong v Oakdale
(All Sunday 3pm).