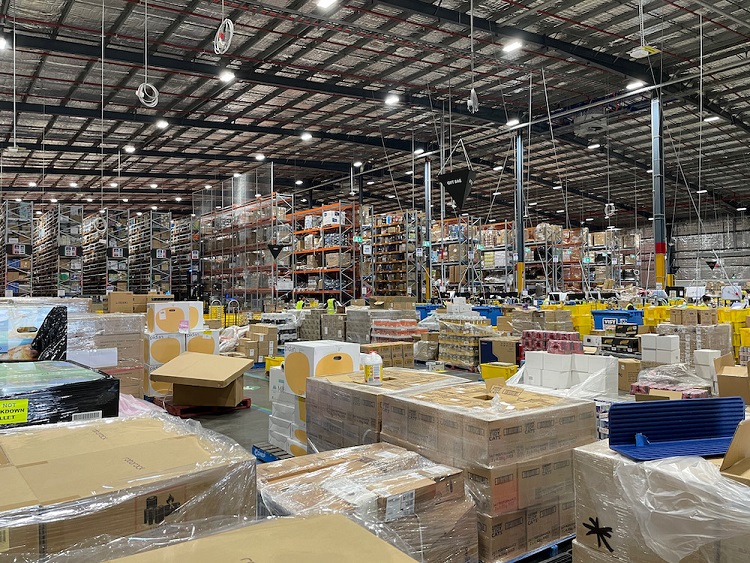 Amazon Australia, which plans to take on around 300 seasonal workers for the holiday season, will hold a large-scale hiring drive for its gigantic fulfilment centre in Moorebank, pictured.
The company is looking for workers with a range of experience and skill levels to help pick, pack and ship orders over the festive season.
The jobs will be a much needed boost for the local economy, because like most of South Western Sydney Liverpool has been feeling the effects of the lockdown, with the unemployment rate sitting at 8.1 per cent.
"These new seasonal job vacancies are a great opportunity to earn an extra income during the holiday season and will offer local people the opportunity to earn competitive pay in a safe and supportive work environment,'' says Liverpool mayor Wendy Waller.
Craig Fuller, director of operations at Amazon Australia said he was pleased the company could offer job opportunities at a time when they are needed most.
"There are opportunities for motivated, enthusiastic people from all backgrounds and we look forward to welcoming them to our sites around Australia as we head into the holiday period," he said.
The announcement of seasonal jobs follows a year of job creation across Amazon's Australian operations network, including the creation of more than 600 new permanent roles at Amazon sites in 2021.
Amazon employees earn industry leading pay, and comprehensive benefits including subsidised healthcare and paid parental leave – as well as opportunities to grow their career with the company.
Amazon is currently in the process of constructing the first robotics fulfilment centre in the Southern Hemisphere in Kemps Creek, which will create more than 1,500 jobs.
The construction and fit out of the state-of-the-art facility also create an additional 1,700 jobs.
For more information, or to apply for the available roles at Moorebank and other Amazon distribution centres, visit Amazon's website at amazon.com/australiajobs