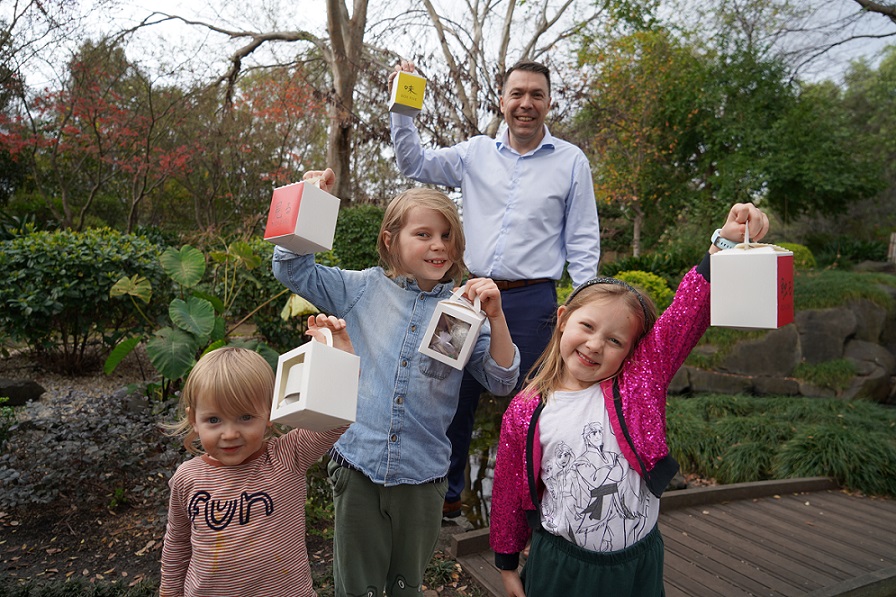 Children and their carers can tap into their senses with a series of art activities and materials from the Campbelltown Arts Centre's new Make Box program.
As part of the Campbelltown 2020 program celebrating our local history, heritage and culture, people can purchase the take home boxes containing art making materials and activities that can be enjoyed from home.
The first boxes on sale are the Make Box – Sanpo edition, which were designed by Machiko Motoi, a Japanese artist who lives and works in Campbelltown.
Sanpo means "walking'' in Japanese and the Sanpo edition includes five smaller boxes which contain activities inspired by each of the five senses using a variety of materials including clay and watercolours.
"Everyone is looking for fun activities to keep the kids entertained over the school holidays so this is a great way to get creative and explore all your senses while at home," says Mayor George Brticevic, pictured above with local kids enjoying the activity in the gardens of the Campbelltown arts centre.
"The Sanpo Make Box is also ideal for children to learn about and understand Japanese culture which shares an important connection with our city through our sister city relationship with Koshigaya," he said.
Further editions of Make Box featuring different themes will be released in the future.
Each box is $100 and can be ordered online or purchased from the Campbelltown Arts Centre shop.
People can also redeem their $100 Service NSW Creative Kids voucher to purchase a box.