Property developer Sekisui House says there's a resurgence in sales from first home buyers at its master planned community, The Hermitage at Gledswood Hills.
According to the latest figures from the Australian Bureau of Statistics (Lending Indicators Report: released February 2020) first home buyer purchasing levels are back to their highest since 2012.
Stamp duty exemptions and concessions for first home buyers for properties up to $650,000 and $850,000 respectively, were also up more than 25 per cent.
"We have experienced a considerable uplift in sales at The Hermitage over the past six months when compared to the beginning of 2019,'' says Craig Barnes, sales and marketing manager at Sekisui House.
"This has in part been driven by an upsurge in savvy first homebuyers seeking to acquire high end property within exclusive master planned communities.
"We're beginning to witness a distinct shift in the needs and wants of first homebuyers, which is not necessarily being driven by price.
"Typically, our core market at The Hermitage is second home buyers,'' he said.
"First homebuyers have doubled over the past quarter when compared to the same period last year, underpinning the strength of the market within growth corridor suburbs such as Gledswood Hills.
"The Hermitage has witnessed a 64 per cent uplift in sales activity over the last four months when compared to the four months prior."
Pictured below are first home buyers Ishan Joshi, 30, a compliance auditor and his wife Pragati Sharma, also 30, a business analyst, who were looking for a new neighbourhood.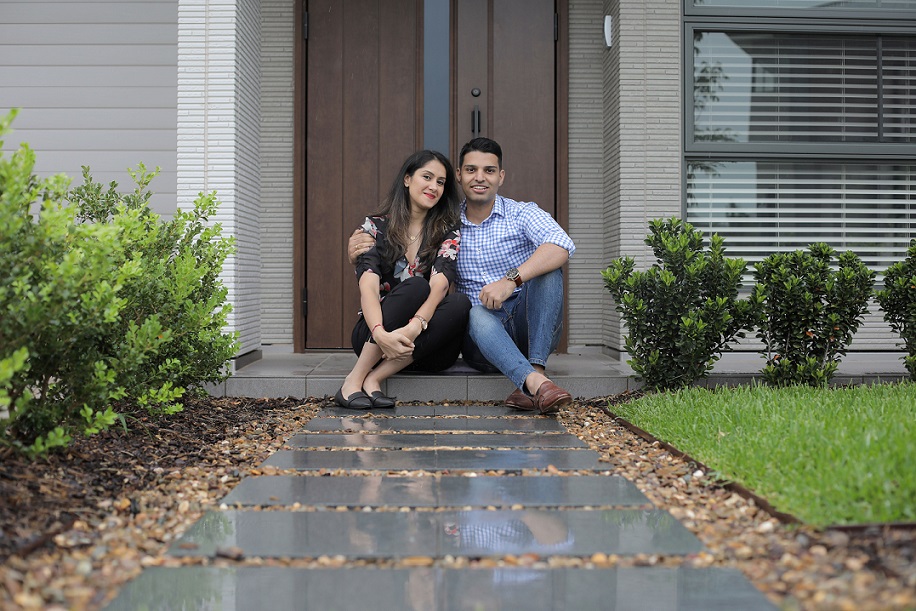 "We looked at several master planned communities in the south west and then drove into The Hermitage. It was unlike anything else in the area – the green vibe and beautiful surroundings were captivating,'' Mr Joshi said.
"Kilometres of walking tracks, parks, the golf course and the new Gledswood Hills Primary School also impacted our buying decision, as well as proximity to the future Western Sydney International Airport.
"We were initially looking for land and then decided on a four bedroom executive Shawood home.
"My parents visit annually and I know they will enjoy the stunning green outdoor environment too."
According to Steve Diggins, director at Professionals Narellan & District, property buyer confidence is back at record high levels in the south west.
"Factors that have contributed include a general lack of established product, low interest rates, affordability of current housing stock, easing of lending and low media attention,'' says Mr Diggins.
"Buyers and sellers now have the confidence to move, obtain a good sale price and pay a fair purchase price.
First home buyers are leading the charge followed by investors, up sizers and downsizers.
"Sydney first home buyers have been quick to take up the federal government's First Home Loan Deposit Scheme which was launched in January, enabling them to purchase with a five per cent deposit."