A new release of the most popular town home designs is set to continue the momentum for Ed.Square.
The first housing release of the new decade at Ed.Square will be launching on February 26 and will include 54 town homes ranging from one to four bedrooms in the precinct known as the Chelsea Pocket.
The release features Ed.Square's most popular town home designs to date – designs which have sold out in previous stages – to suit people at every stage of life. All Chelsea Pocket town homes feature an abundance of natural light, with designs that balance contemporary urban living with the beauty of Ed.Square's natural surroundings.
Frasers Property Australia is encouraging people to attend an upcoming information session to be eligible to purchase at the VIP event. Interest has been strong with information sessions booked out last weekend.
With stage one of the town centre set to open in the second half of this year, Ed.Square residents will have everything they need at their fingertips, from a full line Coles supermarket, Liquorland, state of the art Event Cinemas complex, a range of specialty shops, dining and entertainment options.
Chelsea Pocket residents will also have access to the gated pocket park, which will include a water play area for children, barbecue facilities, playground equipment and seating areas.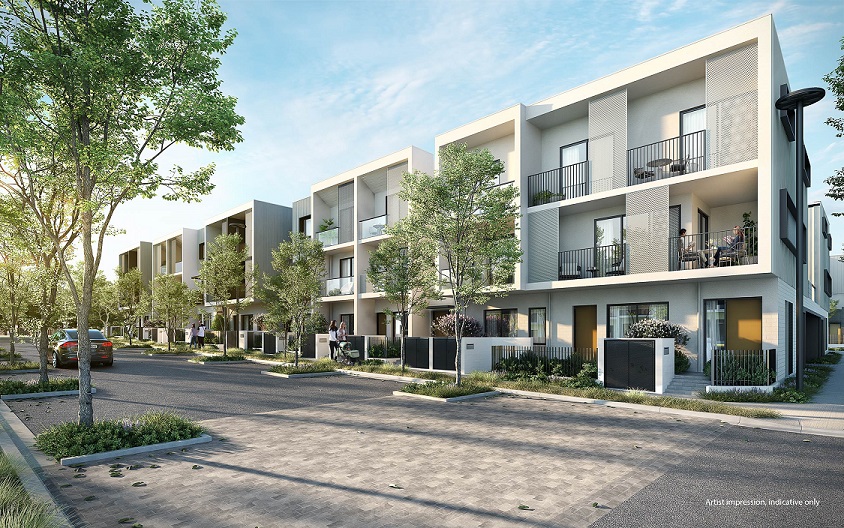 "People have the luxury of choice at Ed.Square, with eight functional town home designs to suit every buyer and budget. We are bringing back some of the most popular designs with new facades to offer a fresh look for the new decade," says Warwick Dowler, development director at Frasers Property Australia.
"The large variety of town homes will appeal to people at every stage of life, whether they are singles, couples, young families, empty nesters or retirees. There is a floor plan for everyone," Mr Dowler says.
First home buyer Anthony Cashman, who purchased a three bedroom Madison with his partner Chloe Gorman last year, says the modern design and quality finishes are major drawcards.
"The Madison works well for me and my partner," Anthony says.
"The Ed.Square town homes are open plan living in a modern style that we hadn't seen in any other developments.
"It really stood out. It was something we would expect to see in Leichhardt or Annandale. To find that modern open plan terrace design in South Western Sydney was a real gem."
One bedroom plus study town homes range in price from $490,000 to $580,000; two bedroom are $675,000 to $695,000; three bedroom $735,000 to $795,000 and four bedroom $970,000 to $980,000.
By Christmas this year approximately 700 people will be living at Ed.Square, within walking distance to Edmondson Park railway station, which provides easy access to Liverpool, Parramatta and Sydney CBD.
The Ed.Square Sales Centre and Display Village is open daily from 11am to 4pm. For further information or to register your interest in Ed.Square, phone Frasers Property on 13 38 38 or visit www.EdSquare.com.au