Passfield Park School opened in September 1981 in Guernsey Avenue, Minto.
Since then it has been providing education and care for children aged between four and 18 with a range of disabilities.
Currently the school's teachers and staff work closely with the parent community to deliver programs from early childhood right through to transition from school to independent living for more than 60 students.
But one thing the teachers and parents can't do anything about is the age of the school buildings.
After almost 40 years, Passfield Park School should be knocked down and rebuilt, says the federal member for Macarthur, Dr Mike Freelander.
So fed up was the local MP he rose in parliament last week to call out the lack of action and to invite Premier Gladys Berejiklian to visit the school to see for herself the condition it's in.
Dr Freelander told federal parliament the school's buildings were deteriorating, and required the urgent attention of the NSW Government.
"I've tried to undertake the appropriate action, lobbying the NSW government to take care of the situation, but its lack of compassion and empathy has left me with no choice but to call this out in the Parliament of Australia," he said.
"Instead of receiving the work it requires, the school over the years has merely received touch-up jobs.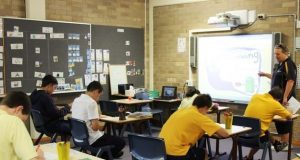 "Some visible mould has been removed from time to time, and minor paint jobs have been undertaken.
"But from firsthand experience and exposure to the school, I can tell you that the school needs much more than that to bring it up to an appropriate standard.
"It needs to be knocked down and rebuilt.
"It's no longer fit for purpose."
Dr Freelander also highlighted issues with accessibility to some classrooms for those students in wheelchairs, before issuing a public invitation to Premier Gladys Berejiklian to meet with him at the school.
"Premier, we can even meet there on a weekend. Trust me: I know my way around the school.
"There will be no PR, no cameras, no spin. Just bring yourself and some builders, please.''