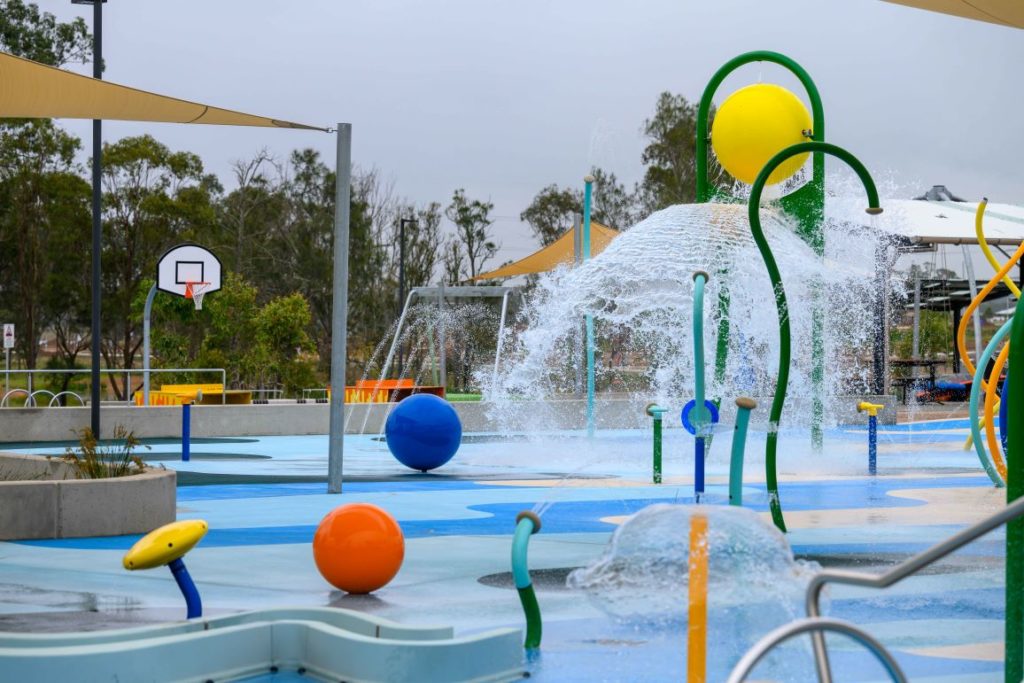 Dawson-Damer Park, the award-winning and highly acclaimed inclusive water play space and community facility in Oran Park, has added another feather to its cap.
This month, the facility earned the NSW award of excellence in the play spaces category of the Australian Institute of Landscape Architects awards.
The award was the highest of its category, with Dawson-Damer Park judged to be the most significant nomination for the advancement of landscape architecture.
Dawson-Damer Park, which was delivered by Greenfields Development Company and JMD Design in partnership with Camden Council, was opened in December 2020 and has been pleasing locals and visitors since.
It features a number of water and non-water activities, including water slides, water spinners, a ninja warrior course, swings, trampolines, basketball facilities and picnic areas.
Being an inclusive facility, it also has a number of wet wheelchairs available.
Other recent accolades for Dawson-Damer Park include its Urban Development Institute of Australia Award for excellence in social and community infrastructure – open space and an honourable mention in the Department of Infrastructure's cohesive communities award.
Mayor of Camden, Cr Ashleigh Cagney, said the award was just one of many acknowledgements the facility has received.
"The recognition just keeps on coming for Dawson-Damer Park. It's a fantastic space for people of all physical abilities and is very deserving of the praise it receives," Cr Cagney said.
"I'm proud that we have the largest water play space in the Macarthur region right here in Camden for locals and visitors to our LGA to enjoy."
Greenfields Development Company general manager Mick Owens congratulated all parties involved in the development of the facility.
"Dawson-Damer Park is a testament to the collaborative work between Greenfields, Camden Council and JMD Design and it's just one of many great open spaces in the growing suburb of Oran Park," he said.
"We are very proud to have received this award from the Australian Institute of Landscape Architects in recognition of the park's outstanding design."
JMD design director James Delaney echoed Mr Owens' praise.
"The success of Dawson-Damer Park is a direct result of close collaboration between the client, consultants, stakeholders and Camden Council," he said.
"It's fabulous to see how well-utilised and appreciated the space is by the community."
Picture by BRETT ATKINS