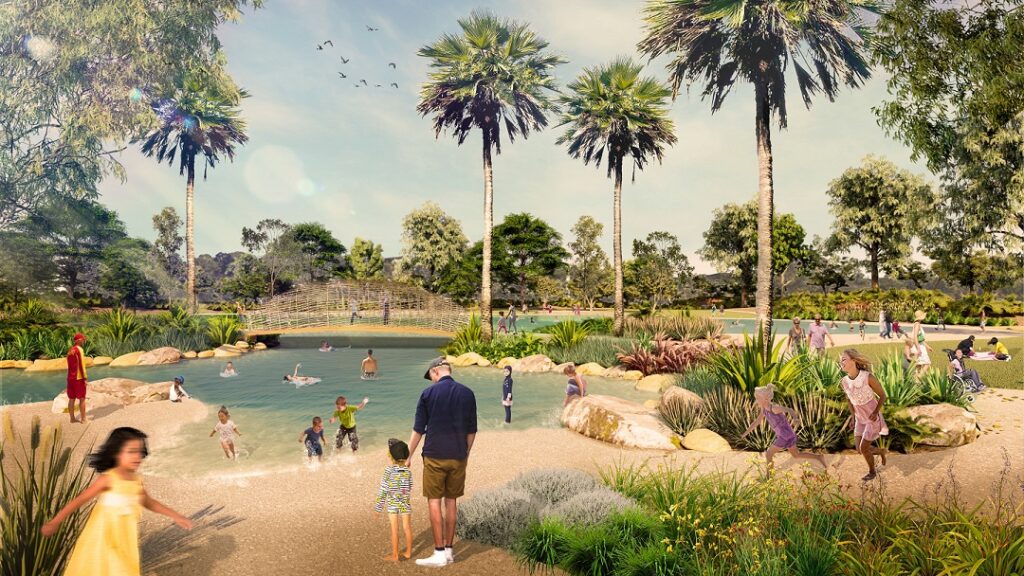 The development of the $31 million Campbelltown Billabong Parklands is moving forward following the appointment of Crystal Pools to construct the iconic water play space and parkland area at Bradbury.
Crystal Pools is Australia's longest operating pool constructions company and has extensive experience building large-scale aquatic facilities.
They will help refine the final design for the project and deliver the construction of the pools and surrounding parklands.
"The Campbelltown Billabong Parklands promises to be an iconic destination for our city and a place where the next generation of families in Campbelltown will create fantastic memories," says mayor George Brticevic.
"We're delighted to welcome Crystal Pools on board to help bring this vision to life and be part of a one of a kind project for the Western City Parklands region.
"I'm looking forward to the start of construction on the pools and seeing the centrepiece of this project take place over the coming months," he said.
Features of the Billabong Parklands include a two metre deep lagoon, a children's pool, and a zero-depth water play area with a range of interactive water elements, open spaces and native tree plantings.
The billabong parklands is funded by Council and the NSW State Government and Federal Government through the Western Sydney City Deal Liveability Fund, with a total value of $31 million.
It is located on a 10 acre site at the corner of The Parkway and Moore-Oxley Bypass, Bradbury and is expected to attract up to 500,000 visitors annually once opened.
The centrepiece of the attraction will be the approximately 1600 square metre main billabong pool, which will be interconnected with a smaller children's pool, cascades and streams and a zero-depth splash play area.
The design of the pools and surrounding parklands reflects the natural riverine environment of Dharawal National Park at nearby Wedderburn.
The project is expected to create about 80 construction jobs and more than 20 full-time jobs to support the ongoing maintenance and day to day operations of the Billabong Parklands.
Construction on the project is expected to be complete by late 2022.