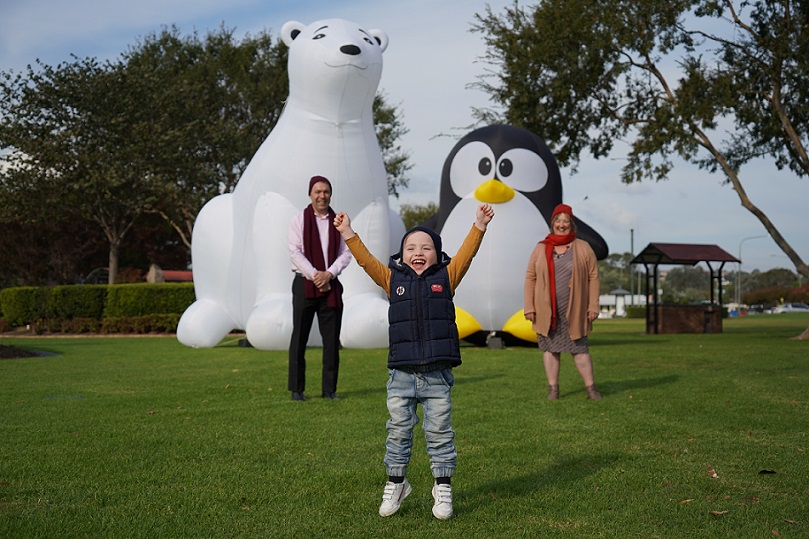 There's a good reason young Campbelltown resident Archer Tonkin is jumping for joy – Campbelltown's winter festival is back on the calendar and with a cool new name.
Chill Fest, which will be on from Friday, June 25 to Sunday, July 11 will transform Koshigaya Park into a winterland playground of fun and adventure.
A lit-up ferris wheel will be the centrepiece of various rides, but there will also be ice skating, winter treats and spectacular lighting displays.
Mayor George Brticevic, who joined Cr Karen Hunt and young Archer at Koshigaya Park yesterday to officially launch Chill Fest 2021 (pictured), said this will once again be a great event for the community to enjoy while also bringing many visitors to Campbelltown.
"Our previous winter festival in Koshigaya Park was a massive hit so we're delighted to bring it back after a year away with a new name, but still including many of the fun favourites you're used to," he said.
"Previous events brought thousands of visitors to our city and I'm sure it will be another great success that draws people from across the region while also being a great place for a bit of school holiday fun for local families," he said.
Favourites from previous winter festivals will return with a cook your own marshmallow feature, tree top entertainment and spectacular light show.
People can also pick up a winter-themed treat from a variety of food trucks.
A two-hour quiet session will be held during the event for people with disability and their carers to enjoy.
Ticket prices, opening times and more event updates will be available closer to the event.