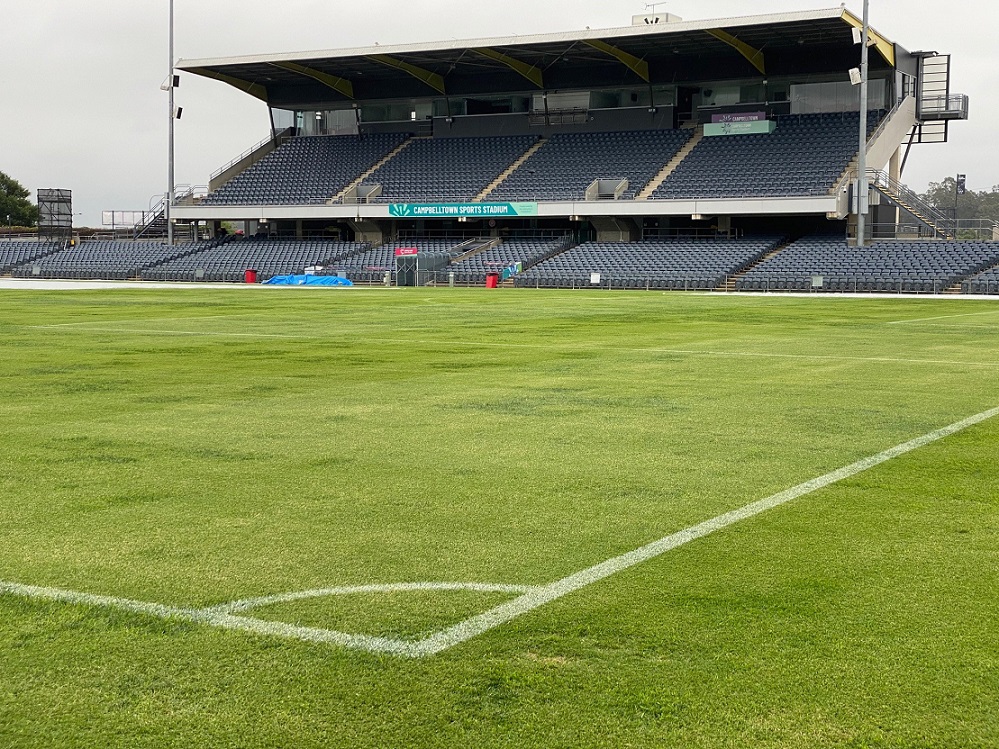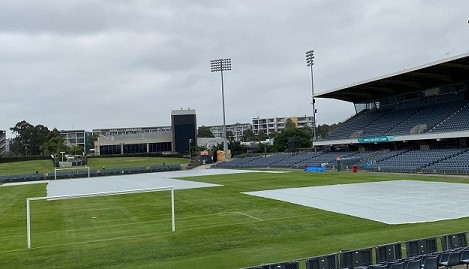 Here they are, Bulls fans, exclusive pictures of the playing surface at Campbelltown Sports Stadium.
The home of Macarthur FC has been out of action since the start of the 2021-22 A-League season.
It was sensationally rejected for play just two days before the Bulls were due to play there in round one on Sunday, November 21.
Seventeen days later nobody really knows exactly what went wrong with the preparation for the surface which ended up looking like it had an accident involving a faulty lawn mower.
Those pictures were also published exclusively in the South West Voice in Macarthur, including the one here (below).
But this afternoon, 36 hours after an official inspection of the pitch gave it the green light for the next home game of the Bulls on Sunday, December 19, this is what it looks like.
The uncovered portion looks lush, although still a bit thin in parts.
Part of the surface has mysteriously got covers on it, a bit like a cricket wicket.
The reason for the covers is another intriguing aspect of this saga, but maybe one of our readers is an expert in grass management and can let us know.
Tonight, the Bulls are at Nestrata Jubilee Stadium, Kogarah, where they take on Sydney FC in an FFA Cup round of 16 clash.
They have played so many matches this season Macarthur FC will almost feel like they are at home.
They defeated Sydney FC there two games back, so they will be full of confidence going into this one.
But our spies tell us the entire club, coaches, players and administrators, can't wait to get their home back.
And they will no doubt have their fingers crossed it never looks like this again.