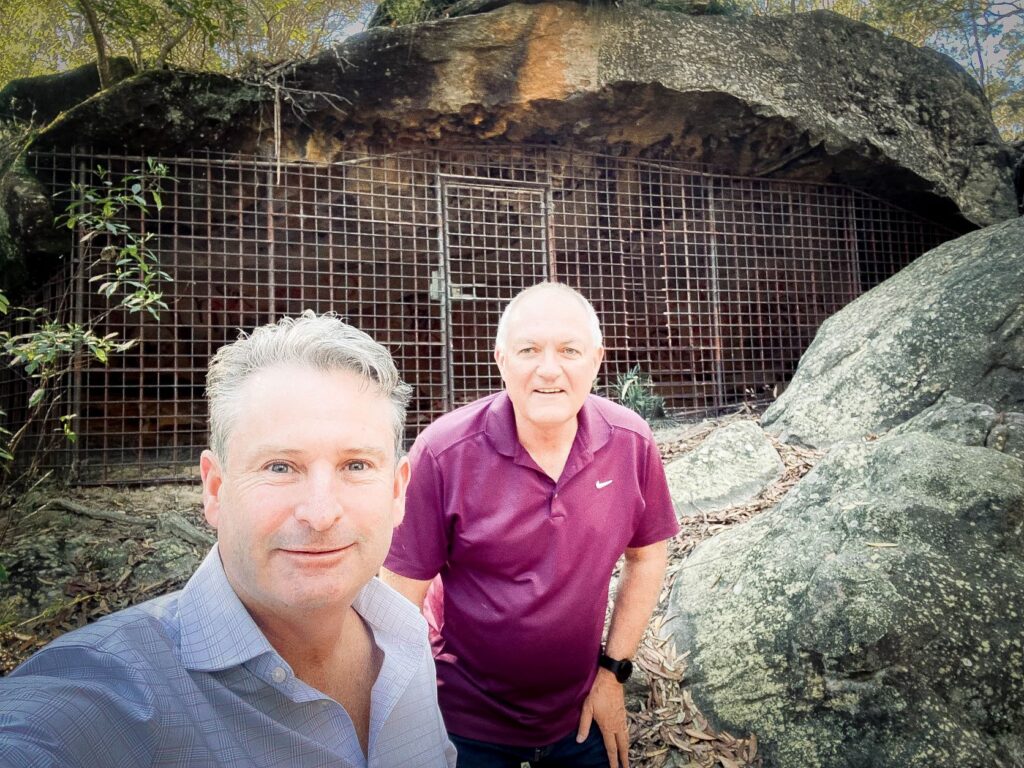 A meet and greet with the mayor, Kentlyn's heritage listed Bull Caves, Tharawal Aboriginal Corporation and local business owners were all on the agenda when Labor MP David Harris visited Campbelltown earlier this week.
Mr Harris, who is opposition spokesman for Aboriginal affairs and treaty, jobs, investment and tourism, joined his colleague, Campbelltown MP Greg Warren as they visited several landmarks and organisations in the local area.
Mr Warren is also an opposition frontbencher as spokesman for Western Sydney, veterans and local government.
First stop for the pair was a short bushwalk down to the heritage-listed and culturally significant Bull Caves in Kentlyn, pictured above.
Next stop was Tharawal Aboriginal Corporation for a tour of the facility with CEO Darryl Wright.
Mr Warren and Mr Harris then headed to Macarthur Square to meet with small businesses owners and centre management to discuss the impacts of the pandemic.
Mr Warren and Mr Harris also met with Mayor George Greiss to discuss the future of the city of Campbelltown.
Mr Harris said it had been a difficult period for small business throughout the state since the initial outbreak of Covid-19.
"Small businesses in every corner of NSW – including here in Campbelltown – have been severely impacted by the pandemic," Mr Harris said.
"It was a pleasure to speak to small business owners in Campbelltown and to hear not only their concerns, but also their plans for the future.
"It was particularly pleasing to be back out at Tharawal and to see the team's hard work and dedication."
Mr Warren said he welcomed the opportunity to show Mr Harris the Bull Caves.
"The Bull Caves feature a drawing of a bull – believed to be from the first time Aboriginals in the Campbelltown area sited the animals that were bought over from Europe," he said.
"It is an incredibly culturally significant landmark for our local area – particularly our local Aboriginal community.
"The fact that the Bull Caves are heritage listed speaks volumes of how significant the site is."