Earlier this year the South West Voice kick started the debate about how to arrest the decline in Campbelltown's main street by pointing out the huge potential it offers. NATALIE WADWELL, who was a speaker at a recent forum on the future of Queen Street, argues here that the time has come for more action and less talk:
It was 9pm on a Wednesday night following the forum on the future of Queen Street when some friends and I crossed paths with a group of young people.
Not ready to end our night out just yet, we went in search of some dessert.
We were denied service at countless places.
It could only have been a slow night for venues which were supposed to be open until 10pm.
Reluctantly our night came to an end drinking hot chocolates at MacDonald's.
In high school we called it the Maccas run, but is this really the best Campbelltown can offer?
I cringe every time we call Campbelltown a "regional city''.
Firstly, regional sets us up in opposition to the city. We are a centre of activity in our own right. Secondly, the term "city'' implies a place where man made structures tower over trees (if they survive the cut). We have seen it all around the world, and our neighbour Liverpool is a victim.
The demand for housing has led to a development boom across the region. But there are some things you only get one chance to do right. Developing Campbelltown for the twenty first century and beyond is one of those things.
I care (perhaps too much) about Campbelltown. I have researched and read too many articles that take issue with how we intervene in cities. I remember the ideas and critiques clearly because many of them say the same thing; embrace the local, embrace your residents, embrace what diversifies you from other regions and embrace history so that it complements the future.
When I was invited to speak at the Forum on the Future of Queen Street, I saw it as an opportunity to share my research. It was hosted by the Macarthur Chronicle at Campbelltown Arts Centre on Wednesday, August 5.
The forum was instigated following a thread of articles about the stagnation of the main street. These articles have sparked a sense of nostalgia in the community. Now residents are appealing not only to council, but to developers and shop owners to pick up their game on Queen Street.
The forum on the Future of Queen Street promised to be less talk more action. From where I sat (in the front row) there was a lot of talk and finger pointing and very little action. With everyone in agreement that Campbelltown needs a better marketing strategy and a renewed vibe, I expected more (perhaps too much).
Discussion rapidly collapsed into what superficial changes should occur. Increased pressure was placed on council to explain what the future aesthetic of Campbelltown would be.
Focusing on long term infrastructure is only part of it. What residents are really asking is for the culture of Queen Street to be reimagined.
Culture is often simplified to categorise the arts, crafts and music. But the term also refers to the everyday happenings of a community or place.
This experience, when combined with the small businesses, parks, historic buildings and arts centre are a product that can be marketed to local residents and beyond to continue changing the perception of Campbelltown.
At present the image promoting Campbelltown is fragmented. We have an arts centre growing in international recognition, the historical Festival of Fisher's Ghost every November (which let's be honest, is a bit tired) juxtaposed with a divided community, at odds with local council about development projects.
In Macarthur Magazine and South West Voice do an amazing job at promoting local stories and locations to wine, dine and play at. So why is it that we are holding ourselves down, perpetuating the stigma we ourselves despise?
I have met a number of individuals doing great things and they want to do more in Campbelltown. From day and night markets, hula hooping jams and live music to artists and film makers who want more opportunities to contribute to the local arts scene.
The organiser of Eat Shop Love markets put herself on the line at the forum. She was shut down with policy and procedure. While I respect formalities, when you have people willing to do all the hard work, one has to question why we make it so hard for them to participate.
We don't need to consult urban planners on the future of Queen Street. With all due respect they proposed in three minutes what residents have suggested for three years.
We need council workers to commit to implementing change, to listen, experiment and watch Campbelltown flourish as a result.
You have boxes that need to be ticked and there are creative, hardworking individuals who can tick them for you. Campbelltown needs to break down the barriers to participation.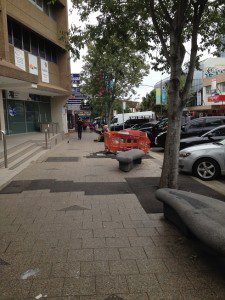 Allowing small cultural interventions to happen on Queen Street cannot be a temporary fix. They need to be seen as long term community engagement.
The residents of Campbelltown are crying out for a cultural, lifestyle change.
We do not need another forum in six months, we need council, shop owners and key community leaders to sit around a table, work together and develop a realistic action plan.
We need council to review their policies and make the entry point for small businesses and community groups more accessible.
We have assets in Campbelltown that are lying dormant. While we wait for the infrastructure changes to happen, we can be experiencing and building Campbelltown's image as a cultural hub now.
* Natalie Wadwell, of Ingleburn, a guest speaker at the Queen Street forum, is the initiator of Stepping Up Macarthur, a youth led exhibition for HSC major works. She has been involved in a range of community events in Campbelltown and is currently writing an honours thesis at UNSW Australia: Art and Design about cultural activation projects in west and south west Sydney.