Before our eyes we are witnessing the changing face of Campbelltown.
Single story dwellings are being levelled to enable high rise complexes, suburbs once reserved for public housing are being gentrified for mixed-housing and concerns for the future of health, education, employment, transport and the environment are coming to the fore.
Over the next two decades the Macarthur region is going to exponentially grow.
As the capital of the region, Campbelltown is preparing itself to be a destination city.
According to the ABS, over the next 20 years our population is set to increase by 36.92 percent.
Which begs the question: what does it take to make Campbelltown not just a liveable city, but a leader in sustainable, human-centred design?
From my perspective as an advocate for youth and local artists, the greatest potential lies in embracing our human assets.
Over the past four years I have been working with individuals who want more opportunities to have a meaningful contribution to the community.
Artists are tired of commuting into the city to present their work, play gigs or find studio space. Young people want a forum to have their voices heard.
Both demographics want to feel more connected to likeminded people and they want to do this in Campbelltown.
Imagine what this could do to the overall creative culture of our city.
Campbelltown has been called home to some of Australia's most influential artists.
Following the advocacy of local artists, in 1988 the Campbelltown City Bicentenary Art Gallery first opened its doors.
Now known as Campbelltown Arts Centre (C-A-C) it has grown from a humble community art space into a nationally and internationally respected cultural facility.
As Campbelltown grows, it is important that we start to look beyond just C-A-C.
There needs to be other services available that complement C-A-C's operations, support the development of local artists and better connect our community.
Overall, it is about enhancing the cultural experience of Campbelltown.
This is why I have been researching and negotiating with council about developing an independent art space.
From the visual arts to music and spoken word poetry, this space will witness the growth of the next generation of story tellers.
Different models for independent art spaces have been growing in prominence across the country.
I have seen firsthand the social impact these spaces can have. I spent a year and a half working with 107 Projects, an independent multi-arts hub in Redfern.
They demonstrate how the arts can contribute to the social, cultural and economic prosperity of cities.
Every day I walked into the office I was filled with anticipation, eager to bring my learnings back to the area.
Following on from my previous work with local artists, I am excited to be developing a sustainable model to implement an independent art space.
When it comes to its impact in our community, we could talk about the importance of cross-cultural conversations that encourage acceptance of difference.
We could talk about inter-generational gaps – better bridging young people with older generations (who are living longer).
We could talk about the potential for more opportunities for local artists of all art forms to present their work in the community, supporting the local economy and small business.
We could talk about the social and mental benefits of better connecting with likeminded people. The potential is endless.
To further enrich the cultural ecology of Campbelltown is every bit as important as health, education, transport and housing.
It is about connecting the historical with the twenty-first century and better embracing our local assets.
Culture plays a crucial role in the growth of Campbelltown, so let's start talking about it and planning for it.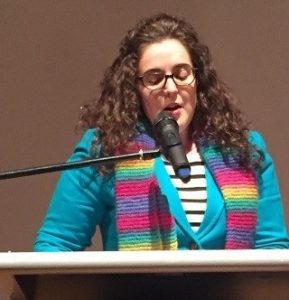 ♦ Natalie Wadwell – pictured at left – is an associate fellow of the School for Social Entrepreneurs and a member of the 2016 Young Social Pioneer cohort with the Foundation for Young Australians.
She is an Ingleburn resident and graduated from UNSW: Art and Design with first class honours after writing her paper Cultural Activation in West and South West Sydney.
For more information on her work with local artists and young people, visit www.wadwellinitiatives.com and connect on Facebook.