Now fully restored, historic Harrington Park Homestead will soon be listed for sale via expressions of interest – for the first time in 75 years. The Georgian homestead and almost 20 acres of land, which are located on a north western rise at Harrington Park, were the country retreat of Sir Warwick and Lady Mary Fairfax for many years.
Harrington Park Homestead was originally built in 1817 by Scottish sea captain William Campbell.
Today the house is a three-story, five-bedroom, four-bathroom family home, but in keeping with a historic house of its stature it also includes an external billiard room, two traveller's rooms, extensive cellars, two caretaker cottages, sheds and an external office built by Sir Warwick.
Terry Goldacre, who has been the managing director of Harrington Estates since day, oversaw the restoration of Harrington Park Homestead, pictured below a few years before the restoration works got under way.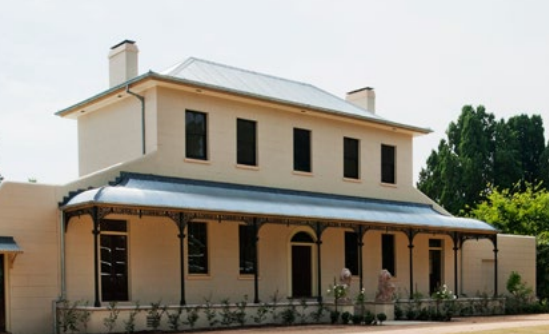 xxxxx
There will be a changing of the guard at tonight's AGM of the Campbelltown business chamber.
Glenn Creecy, president for the past two years, is expected to stand down and make way for a new leader.
Talk around town is that current vice president Tamlyn Van Zyst will step up to the plate at tonight's meeting to take the reins from Creecy.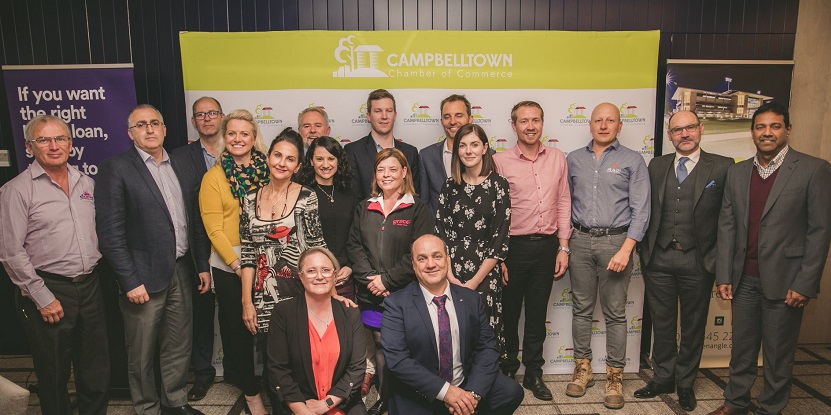 Ms Van Zyst, pictured above with Glenn Creecy (front) and other members and sponsors of the chamber in August, has been a board member of the chamber since 2013.
The AGM will be held in Campbelltown TAFE college from 6pm tonight.
xxxxx
On Tuesday, September 24, Campbelltown Library will have as guest speaker Kate McClymont, the well known Sydney investigative journalist.
McClymont will discuss her new book, Dead Man Walking, which details the murder of Sydney businessman Michael McGurk.
It was Kate McClymont in whom millionaire businessman McGurk confided that he feared for his life, just one week before he was fatally gunned down outside his Sydney home.
He hit was ordered by Ron Medich, the millionaire businessman who started building his wealth around the Liverpool area.
This story as told by McClymont involves bumbling criminals, turncoats, snitches, developers, wealthy people brought down, and devastated families.
It unpacks the structures of our major cities and asks some big, big questions.
If you would like to attend the 1pm talk you'd better hurry as there aren't too many spaces left.
Just go to the council website to book your seat, for free.
xxxxx
Former deputy mayor Paul Blyton has reminded us that it has been 20 years since the South West region signed a partnership agreement with Taian City and Shankou town in Shandong Province in China.
He says the resulting Macarthur South West International Partnership Committee is still going as strong as ever.
Blyton says one of the highlights of the past 20 years was having our very own long distance legend Pat Farmer run the race up the mountain – 6,500 stone steps – and finishing third overall and first in the international section out of 3,500 competitors.
That was way back in 2002.
"This year, our 20th, we took Pat Farmer back to China to compete once again in the Mount Taishan climbing race,'' writes Paul Blyton.
"Pat is now 57 years old and came 55th out of more than 5,000 competitors – a pretty good effort,'' he said.
xxxxx
A proposal to heritage list the township of Camden was proposed by the three Labor councillors, Cindy Cagney, Paul Farrow and Ashleigh Cagney, but when put to the vote at Camden Council's last meeting it was unanimously endorsed.
But don't get too excited because it won't be happening tomorrow or indeed any time soon.
The notice of motion given unanimous support says: Council staff gather information in the form of a report back to council that outlines the processes that would need to be undertaken, if council was of the mind to assist the community in having the township of Camden heritage listed, at the State level, some time in the future."
xxxxx
Across at Campbelltown councillors will be waiting with bated breath for a report looking into what other councils have done in "regards to declarations of climate emergency'.
The report was requested by Greens councillor Ben Moroney in June and will be released in October.
xxxxx
Local radio man and part time Queenslander Trevar Langlands sent in this image below as a reminder for those panicking about bushfires early in the summer season that the more things change the more they are the same.